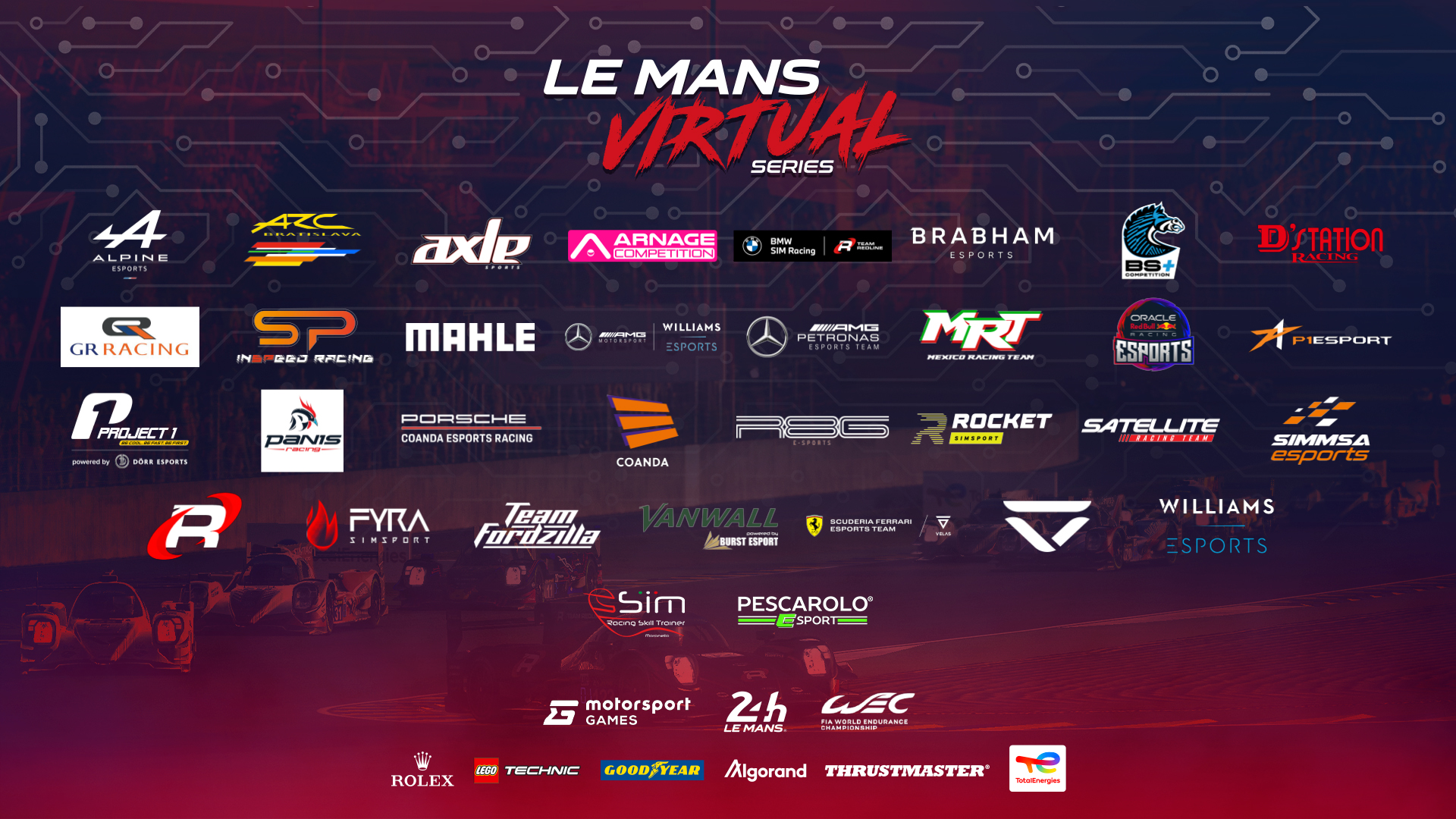 06 Sep

2022-23 Le Mans Virtual Series and Motorsport Games Reveal This Season's Bumper Entry List

Roster includes some of the most elite esports and motorsport teams

MIAMI, FL – September 6, 2022 – The entry list for the 2022-23 Le Mans Virtual Series – the global, elite endurance esports series and a joint venture between Motorsport Games Inc. (NASDAQ: MSGM) ("Motorsport Games") and the Automobile Club de l'Ouest ("ACO") – has today been revealed. The list features teams representing some of the most prestigious automotive manufacturers in the world, as well as elite esports squads from around the globe. The biggest full season Le Mans Virtual Series entry list to date, the complete roster can be found HERE.

Individual driver names, including championship-winning superstars from multiple disciplines around the world who will be making an appearance during the season, are due to be released on Monday, September 12, 2022 during a special TV Preview Show. Social media channels will have more news on how to view the show in the coming days. An additional 10 cars are expected to join the entry list for the increasingly popular, high profile 24 Hours of Le Mans Virtual on January 14 and 15, 2023 – the final round of the five-race series – attracting even more star names to add to the excitement. No fewer than 15 different nations are represented on the team entry list from Europe, the USA, Africa and the Far East, a 25% increase from last season.

The 40 full season entries are split between two categories of car (LMP2 – 24 cars; LMGTE – 16 cars), which will compete in races that range between four and 24 hours in duration. Top worldwide brands such as Alpine, Aston Martin, BMW, Ferrari, Mercedes-AMG and Porsche return for more top esports action and success, many with multiple entries.

The prestige manufacturer names are joined by the elite of sim racing competition, including LMP and GTE 2021 champions Team Redline and GTE Vice Champions Porsche Coanda Esports, who are stepping up to the prototype class. Among others, Romain Grosjean's R8G Esports team will be competing alongside, Floyd Vanwall-Burst, Williams Esports, Alpine Esports, YAS Heat Veloce, AMG Team Petronas Esports and Jenson Button's Rocket Simsport team in the prototype category, and all entries will compete with an ORECA 07 LMP2. Joining them for 2022 are Mexico Racing Team, Pescarolo Esport Monaco, Team Fordzilla and Brabham Esports, the latter of which is new to the Le Mans Virtual Series but bringing with it a name steeped in motorsport history.

Some of endurance racing's most steadfast teams such as the European Le Mans Series' Panis Racing, GR Vector eSport (a combination of two WEC teams), Proton Competition, D'Station Racing and ARC Bratislava are also featured on the list across the two categories.

The GTE class offers competitors a choice of Aston Martin Vantage GTE, BMW M8 GTE, Ferrari 488 GTE and Porsche 911 RSR GTE cars. Names familiar to both the real and sim racing worlds, such as MAHLE Racing Team, SIMMSA Esports, Oracle Red Bull Racing and Prodrive FYRA Esport, will be among the competitors vying for championship success.

The Le Mans Virtual Series will take place over five rounds, with the 24 Hours of Le Mans Virtual as its grand finale, as follows:

Round 1                        8 Hours of Bahrain, Bahrain                               September 17, 2022

Round 2                        4 Hours of Monza, Italy                                       October 8, 2022

Round 3                        6 Hours of Spa, Belgium                                    November 5, 2022

Round 4                        500 Miles of Sebring, USA                                 December 3, 2022

Round 5                        24 Hours of Le Mans Virtual                               January 14/15, 2023

The calendar of events features some of the world's most famous and recognizable racetracks – Monza, Spa, Bahrain, Sebring and Le Mans – which will challenge all the drivers, international FIA-licensed and sim racers alike, and thrill the millions of esports enthusiasts worldwide.