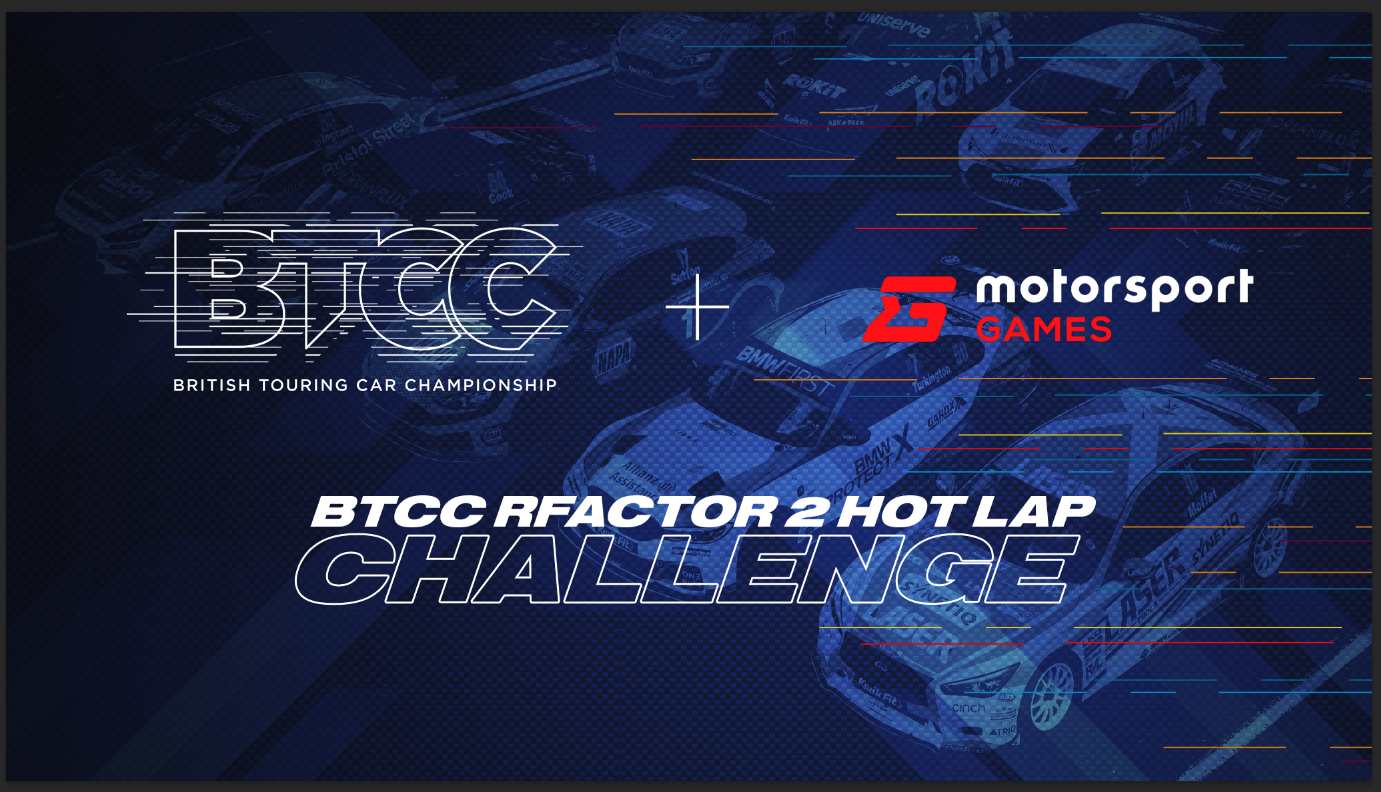 05 Aug

MOTORSPORT GAMES AND BTCC ANNOUNCE "BTCC RFACTOR 2 HOT LAP CHALLENGE" FOR FINAL FOUR EVENTS OF THE SEASON

Visitors will be able to play BTCC content, with the best 'Time2Beat' winning signed gear from the BTCC


MIAMI, FL – August 5, 2022 – Motorsport Games Inc. (NASDAQ: MSGM) ("Motorsport Games" or the "Company"), a leading racing game developer, publisher and esports ecosystem provider of official motorsport racing series throughout the world, in conjunction with the British Touring Car Championship (BTCC), announces today the BTCC rFactor 2 Hot Lap Challenge. The challenge will be available for fans to participate in at the final four race weekends of the 2022 BTCC season. Visitors who also register for the Motorsport Games/BTCC mailing list will be among the first to receive exclusive news and updates on the upcoming BTCC game, slated for full release in 2024.

Ticket holders at each event are welcome to stop by the Motorsport Games x BTCC booth in order to experience official BTCC content within rFactor 2, the realistic racing simulation platform. Fans will compete to post their hot lap time (Time2Beat), with the best posted result winning the signed gear grand prize. The booth will feature four racing simulators pre-loaded with a rFactor 2 tech demo, running official BTCC cars and tracks. Free giveaways will also be available while supplies last. The BTCC rFactor 2 Hot Lap Challenge will be available to play at the following race weekends:
Snetterton (Norfolk, UK): August 13-14, 2022
Thruxton (Hampshire, UK): August 27-28, 2022
Silverstone National (Towcester, UK): September 24-25, 2022
Brands Hatch GP (Kent, UK): October 8-9, 2022
"The launch of the BTCC rFactor 2 Hot Lap Challenge is one of the many ways in which Motorsport Games is bringing this iconic motorsport series to life for fans to enjoy," said Dmitry Kozko, CEO of Motorsport Games. "This activation, a part of four events this season, provides a first look at the BTCC brought to life within the virtual world. By bringing the BTCC into the Motorsport Games fold, we are continuing to enhance our product differentiation within a robust racing games marketplace for fans across the globe."
The BTCC rFactor 2 Hot Lap Challenge serves the goal for both Motorsport Games and the BTCC of refining and strengthening the future BTCC game title, scheduled to arrive in 2024. Fans who take part in the Time2Beat activations will be able to provide real time feedback that will be used in the game's development. The hot lap challenges are a part of the larger promotional plan update previously announced by Motorsport Games, including additional activations, content releases and 'first-play content' tech demos through rFactor 2 containing BTCC content.
"The BTCC rFactor 2 Hot Lap Challenge being brought to our events is yet another way we are ensuring a memorable fan experience at our races," said Alan Gow, BTCC Chief Executive. "We know that our fans are eager to get their hands on the official BTCC game and we ensure that progress and expanded development plans are continuing to be made in the here and now. We look forward to hearing the fans' feedback directly and having another entertaining and engaging experience available during race weekends."
Motorsport Games plans to continue adding additional BTCC branded content into rFactor 2. Motorsport Games and rFactor 2 have already added the Infiniti Q50 and Toyota Corolla BTCC cars into the simulation for fans to drive as part of a first content rollout. Daily BTCC competitions through the rFactor 2 competition system will be open to all users, allowing for statistics-driven benefits to each driver's rating. All content released via rFactor 2 will be utilized as a technical test bed, allowing consumers and official drivers to provide feedback for the development team and help build the best experience upon full release.
To keep up with the latest Motorsport Game news, visit www.motorsportgames.com and follow on Twitter, Instagram, Facebook and LinkedIn.