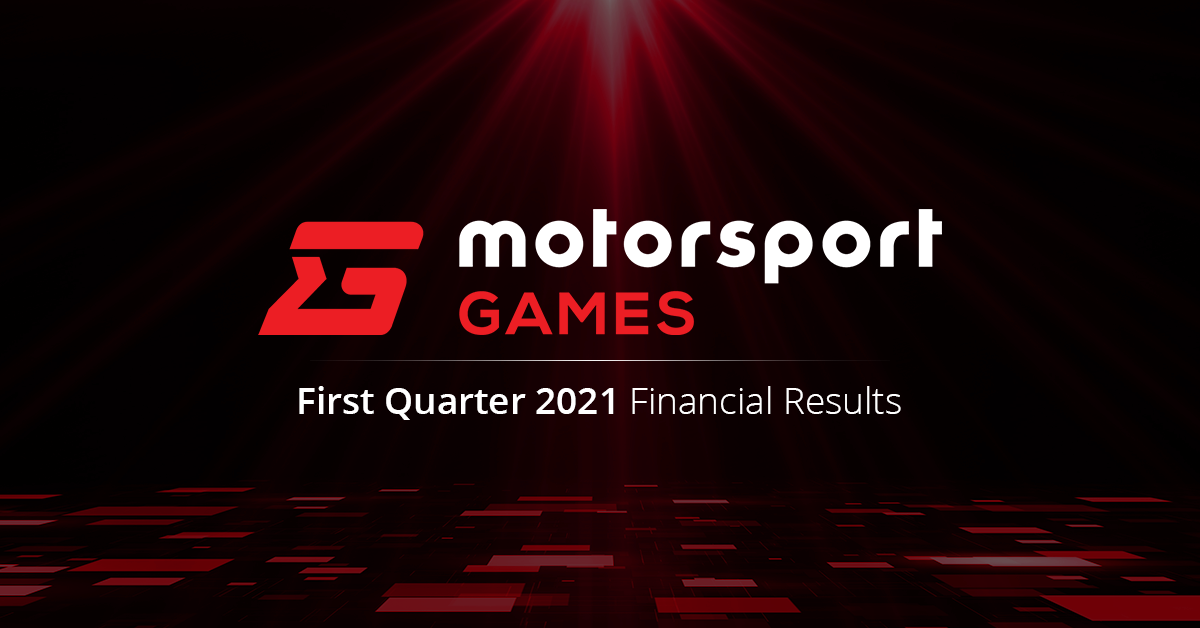 17 May

Motorsport Games Reports First Quarter 2021 Financial Results

MIAMI, May 17, 2021 (GLOBE NEWSWIRE) — Motorsport Games, Inc. (NASDAQ: MSGM) ("Motorsport Games") today reported financial results for the first quarter ended March 31, 2021. The Company also posted a First Quarter 2021 Review video, highlighting key milestones that occurred in the period, which is accessible on the investor relations section of its website.

Dmitry Kozko, Chief Executive Officer of Motorsport Games, commented, "We are pleased to announce another strong quarter in terms of building out additional infrastructure to grow the business. Our first quarter results demonstrate the progress we are making executing on our long-term growth plan. We have had success adding talented developers to our team in order to expand our portfolio of racing games. Additionally, we have improved our proprietary technology therefore enhancing our ability to provide world-class products. We believe our recent acquisitions solidify our position as the go-to provider for racing games and esports entertainment. We have a steady commitment towards innovation and growth as we continue to look for investment opportunities that create shareholder value and continue to bring the joy of racing games to all of our fans worldwide."

Kozko commented, "Since the completion of the IPO in January, we have worked towards establishing a global presence by improving our development studio capabilities in the United States, the United Kingdom, Russia, Australia and the Netherlands. Our global studio presence is important as we seek additional IP opportunities to expand our fan base and become the market leader in virtual motorsport racing around the world."

To help achieve this goal, the Company brought in Gérard Neveu from the FIA World Endurance Championship where he led the growth and success of the series as CEO for the past 10 years.

Kozko noted, "Gérard will be instrumental in helping us build and maintain relationships with some of the most important motorsport series and industry participants. We are excited to accelerate our growth plan to establish a greater global presence with Gérard's assistance."

First Quarter 2021 Highlights
First quarter revenue tracked ahead of management's expectations at $2.5 million. This compares to revenue of $3.2 million in the prior year period, which had closer proximity to a game launch, and when gaming participation was at historic highs driven by the global pandemic. The Company's new flagship game, NASCAR NXT, is scheduled to be released in the back half of the third quarter this year.
In the first quarter, the Company created and released NASCAR Heat Ultimate Edition to drive additional revenues.
Gross Profit decreased to $1.7 million for the first quarter 2021, as compared to $2.2 million in the first quarter 2020. Gross Profit Margin improved to 68% compared to a gross profit margin of 67% in the prior year period, as higher margin digital sales continue to increase as a percentage of total sales.
Net loss for the first quarter of 2021 was ($14.1 million) compared to ($0.2 million) in the prior year period.
Adjusted EBITDA1 was ($2.8 million), compared to ($0.07 million) in the prior year period.
First Quarter 2021 and Subsequent Business Update
NASCAR NXT. The rework of the new NASCAR franchise is in its final significant development period and will be submitted to platform holders for testing and certification. NASCAR NXT is anticipated to launch in the back half of the third quarter of this year.
Le Mans Esports Series Joint Venture. The Company acquired an additional 6% interest in the Le Mans joint venture which brought the total ownership to 51% and allows the Company to consolidate the Le Mans joint venture into its financial results going forward. Additionally, the joint venture entered into license agreements where the joint venture was granted multiple 10-year exclusive licenses to use certain licensed intellectual property related to, themed as, or containing the FIA World Endurance Championship and the 24 Hours of Le Mans for esports and games.
Motorsports Advisor Hire. The Company hired highly-experienced motorsport promoter Gérard Neveu. He will serve as Motorsport Games' Motorsports Advisor, acting as the primary conduit between Motorsport Games and the world's motorsport series and larger motorsport industry as a whole. Neveu will be responsible for developing, enhancing and executing projects and agreements between Motorsport Games' esports business and the motorsport industry, while ensuring maximum authenticity across Motorsport Games' virtual offerings along the way.
Completed Acquisitions. Motorsport Games has completed the acquisitions of KartKraft and Studio397. Both Motorsport Games Australia (KartKraft) and Studio397 (rFactor 2) continue to be integrated into the Company with all parties working together to harness and integrate staff, processes and technologies. Both studios will be providing significant expertise and product capabilities to Motorsport Games over the coming months and years. The Company also announced it completed the acquisition of the remaining outstanding shares of 704Games Company.
Esports Events. The Company continues to host its NASCAR Heat 5 esports event, Ultimate Summer Showdown, which is a four event esports tournament that began on April 30th and will culminate with a showpiece final on July 22nd.
Stephen Hood, President of Motorsport Games, said, "I'm pleased to announce we are making great progress on the product front, finalizing NASCAR NXT, which we currently anticipate will be available in the back half of the third quarter. We are also adding new platform opportunities like Nintendo Switch later this year. The integration of our new studios, such as Motorsport Games Australia, that will drive forward the KartKraft product and Studio397 with rFactor2, has been a seamless transition to provide us with new technology, creativity and expertise. This incredible talent will help us accelerate our forward looking business interests and, together, I believe we will define the future of virtual motorsports."