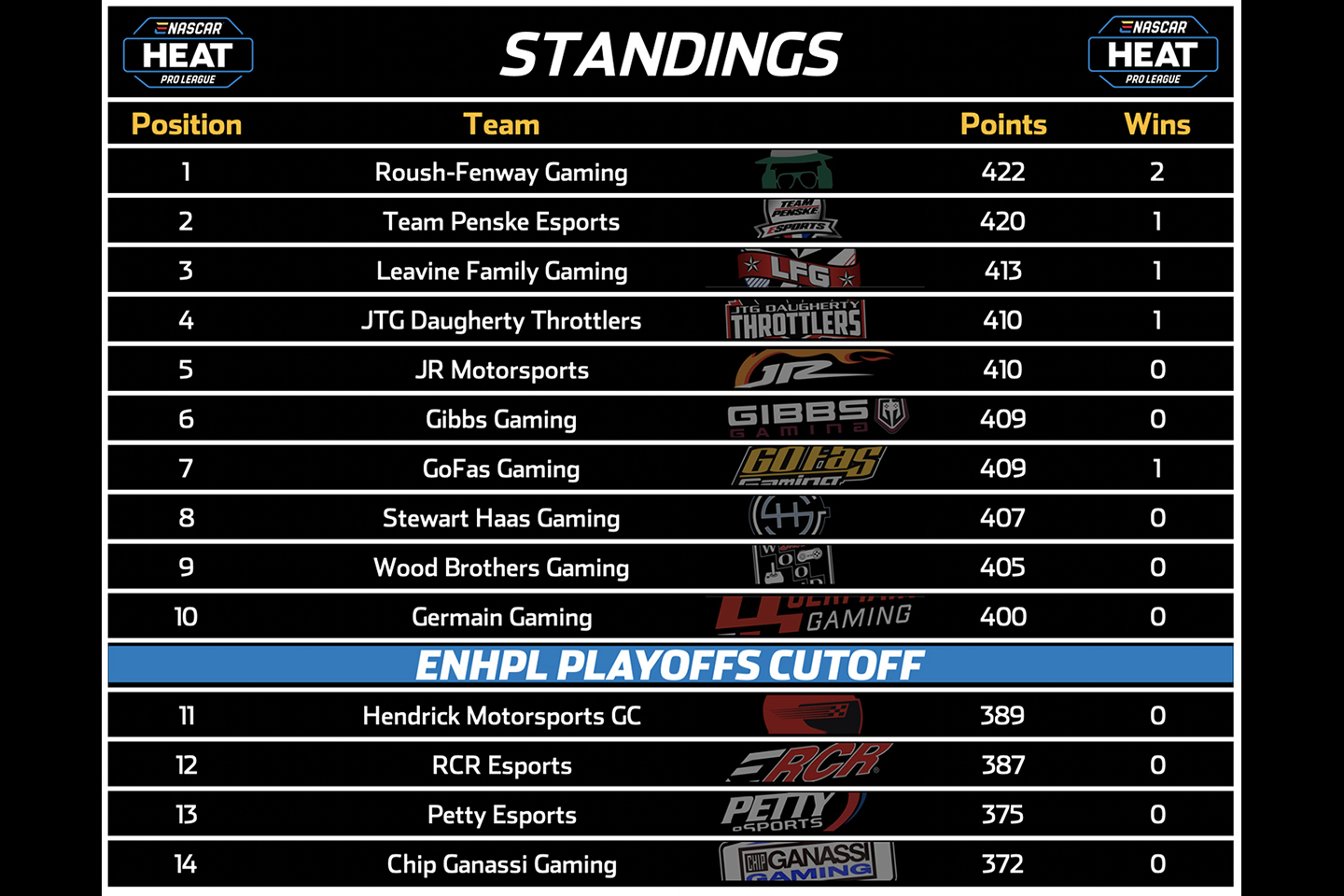 05 Aug

eNASCAR Heat Pro League "Heat Check"

GoFas Gaming becomes the first team to have both drivers win a race in the 2019 eNASCAR Heat Pro League season, while several teams are still on the outside looking in for playoff berth. Teams have two more races to lock in a playoff berth before the playoffs start in September.


News & Notes
Go Fas Racing – Matthew Heale (GoFasMatt32) and Hunter Mullins (FasFed32) secured a playoff berth winning and finishing second in their events last week, respectively.
Slade Gravitt (sladeg84) – After winning the season opener at Charlotte and finishing 12th at Auto Club, the Wood Brothers Gaming driver finished second at Bristol a week later and has not finished lower than fourth since.
"HotRod" (SHG_HotRod_14p) – The Stewart-Haas Gaming driver is on a roll right now in qualifying winning the pole in three of the last four races and will also start on the pole for next week's race at Michigan International Speedway.
Hendrick Motorsports Gaming Club, Richard Childress Esports, Petty Esports and Chip Ganassi Gaming – These four teams are on the outside looking in to make the playoffs with only two regular season races remaining to secure a berth with a team event win or climb into the top-10 in the points standings.
Greg Matarazzo (skrrtbusch) – The Chip Ganassi Gaming driver is the only driver to average finishing outside the top 10 this season.
Diego Alvarado (diegodd18) – The Petty Esports driver is the only one in the Xbox One division who has not led at least one lap of competition this season.
Playoff Teams
These teams have secured a playoff berth with two races remaining in the eNASCAR Heat Pro League regular season:

GoFas Gaming
JTG Throttlers
Leavine Family Gaming
Roush-Fenway Gaming
Team Penske Esports