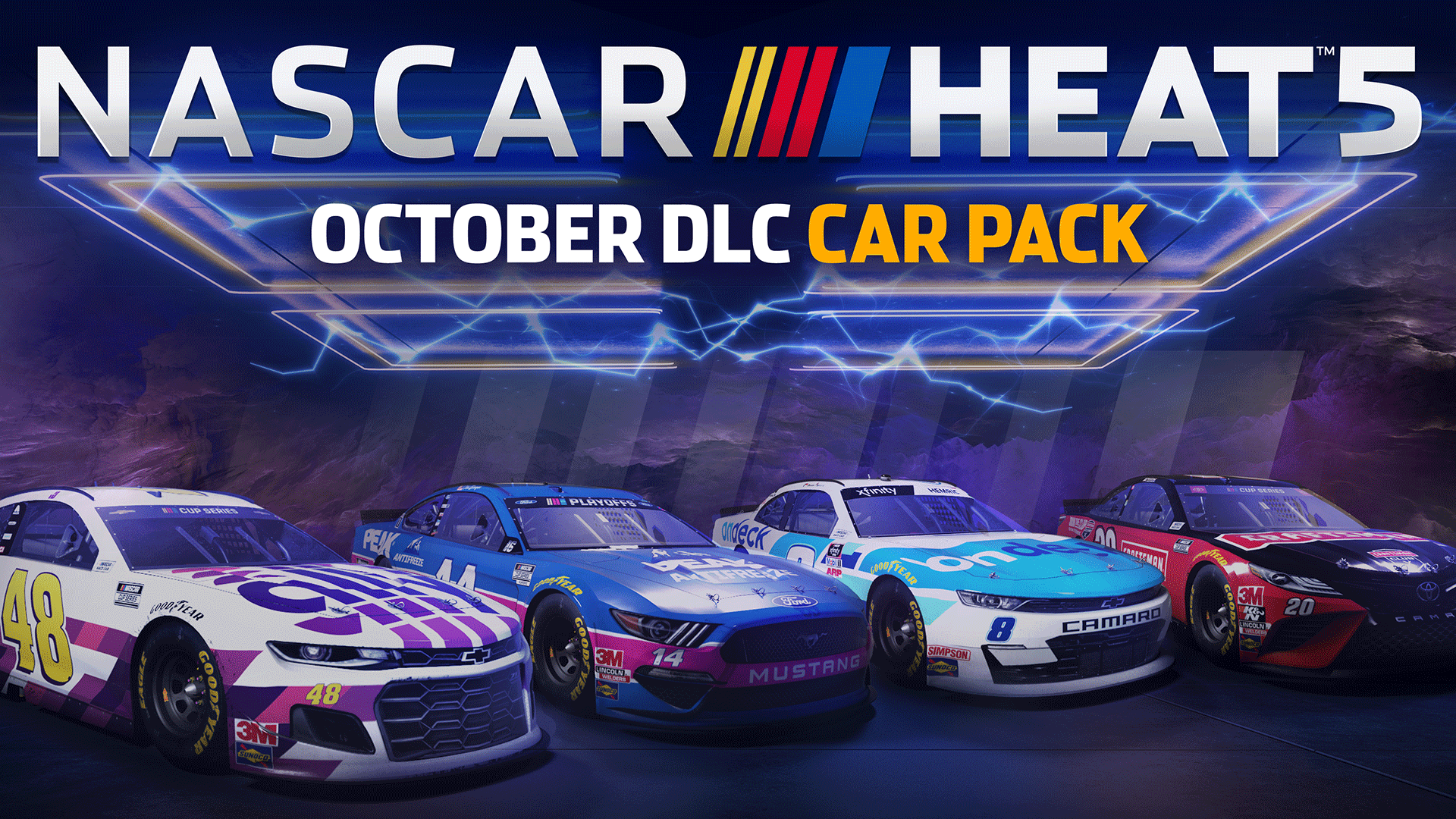 29 Oct

October DLC Means Throwbacks! Out Now!

Available now on Xbox, PS4, And Steam

Let's look back to simpler times. A time without face masks. A time with hugs. A time with packed grandstands!

The October DLC for NASCAR Heat 5 is here and it's bringing a heap of throwback schemes with it. And quite frankly we're thrilled about this! This is also our BIGGEST DLC so far with 49 Cup Series schemes, 14 Xfinity Series schemes, and 8 Truck Series schemes. That's a whopping 71 new schemes included! Some of the Cup Series throwbacks include Bowyer, Newman, Wallace, Reddick, Hamlin, and much more!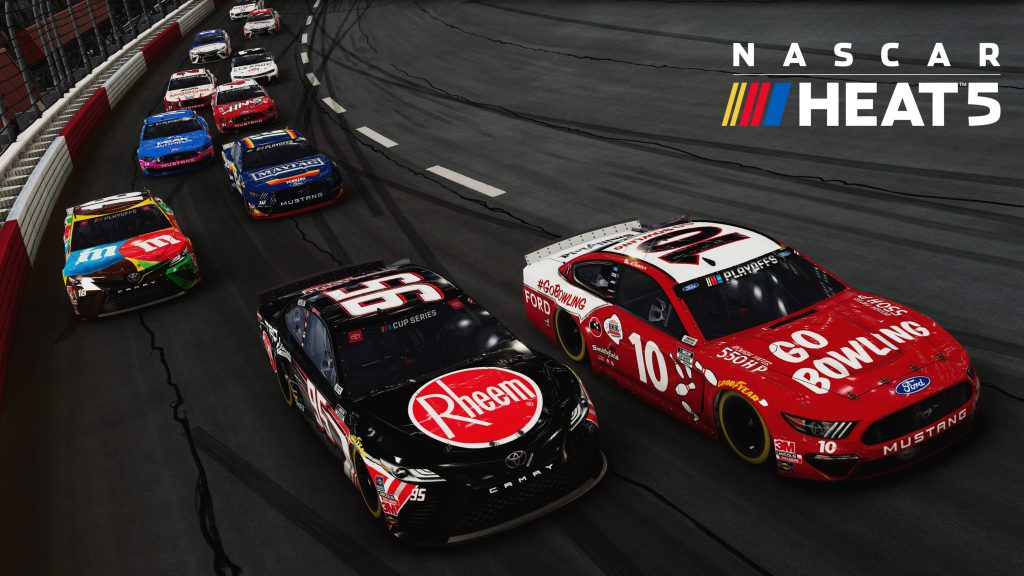 This month's DLC will also include three new challenges. The first is an Xfinity Rookie challenge at the Indy Road Course as Harrison Burton, then you'll be taking over as Kurt Busch in his hometown of Las Vegas, and finally another Indy Road Course challenge, this time as Chase Briscoe.
Don't forget to check out our previous blog post with all of the information about the latest patch to hit NASCAR Heat 5 earlier this week. As with previous months, this DLC is free to all owners of NASCAR Heat 5 Gold Edition, or owners of the Season Pass. The October DLC can also be purchased separately as standalone content for $12.99 USD.
And without further adieu, here is the full list of schemes!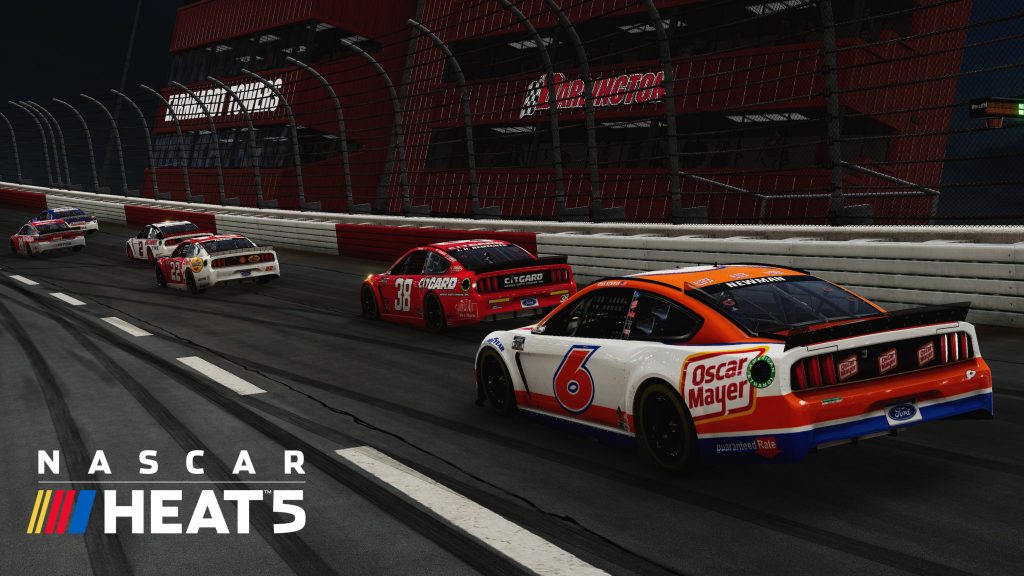 NASCAR Cup Series
| | |
| --- | --- |
| Aric Almirola | Go Bowling Throwback |
| Aric Almirola | Smithfield All-Star |
| Christopher Bell | Rheem Throwback |
| Josh Bilicki | Insurance King Throwback |
| Ryan Blaney | Body Armour All-Star |
| Ryan Blaney | Menards Throwback |
| Alex Bowman | Chevy Goods All-Star |
| Alex Bowman | Acronis |
| Clint Bowyer | PEAK Throwback |
| Clint Bowyer | Rush Truck Center All-Star |
| Chris Buescher | Fastenal All-Star |
| Kyle Busch | M&M All-Star |
| Kyle Busch | M&M Throwback |
| Kyle Busch | M&M Red, White and Blue |
| William Byron | Liberty University |
| William Byron | Axalta All-Star |
| Cole Custer | Haas Tooling All-Star |
| Cole Custer | Haas Tooling Throwback |
| Matt DiBenedetto | Menards/FVP All-Star |
| Matt DiBenedetto | Motorcraft Throwback |
| Austin Dillon | American Ethanol Throwback |
| Austin Dillon | Bass Pro Shop Tracker Boats All-Star |
| Chase Elliott | Unifirst All-Star |
| Denny Hamlin | FedEx All-Star |
| Denny Hamlin | FedEx Throwback |
| Quin Houff | Permatex Throwback |
| Jimmie Johnson | Ally White |
| Eric Jones | Craftsman All-Star |
| Eric Jones | Sports Clips Throwback |
| Brad Keselowski | Wurth |
| Brad Keselowski | Discount Tire All-Star |
| Brad Keselowski | Discount Tire Throwback |
| Joey Logano | Shell/Pennzoil All-Star |
| Joey Logano | Pennzoil Throwback |
| Michael McDowell | Loves All-Star |
| John Hunter Nemechek | Citgard Throwback |
| John Hunter Nemechek | Yanmar All-Star |
| Ryan Newman | Oscar Meyer Throwback |
| Ryan Newman | Oscar Meyer All-Star |
| Ryan Newman | Guaranteed Rate |
| Ryan Preece | Energizer All-Star |
| Tyler Reddick | CAT Throwback |
| Tyler Reddick | Food City All-Star |
| Ricky Stenhouse | Kroger All-Star |
| Daniel Suarez | Toyota All-Star |
| Daniel Suarez | Arris Throwback |
| Martin Truex Jr. | Bass Pro Shop Throwback |
| Bubba Wallace | World Wide Technology All-Star |
| Bubba Wallace | Cash App Throwback |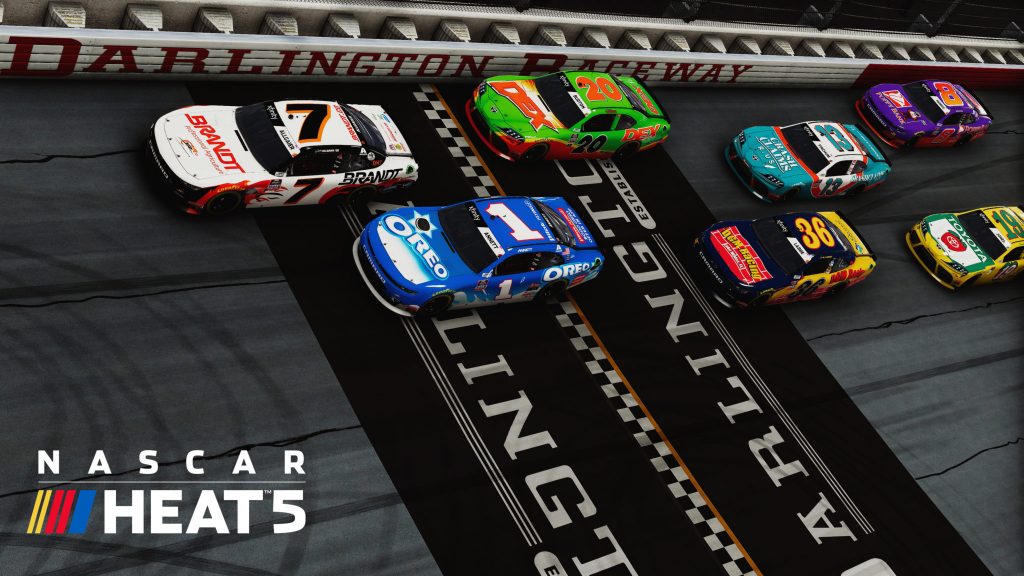 NASCAR Xfinity Series
| | |
| --- | --- |
| Justin Allgaier | Brandt Throwback |
| Michael Annett | Oreo Throwback |
| Harrison Burton | Dex Imaging/Fields |
| Harrison Burton | Dex Imaging Throwback |
| Ross Chastain | Moose Fraternity |
| Jeremy Clements | First Pacific Funding |
| Jeremy Clements | Fly and Form Patriotic |
| Chad Finchum | Garrison Homes Knoxville |
| Chad Finchum | Crash Claims Throwback |
| Joe Graf Jr | Bass Reaper Bait Co. |
| Daniel Hemric | On Deck |
| Daniel Hemric | Poppy Bank Throwback |
| Brandon Jones | Toyota Throwback |
| Alex Labbe | Jackaroo Throwback |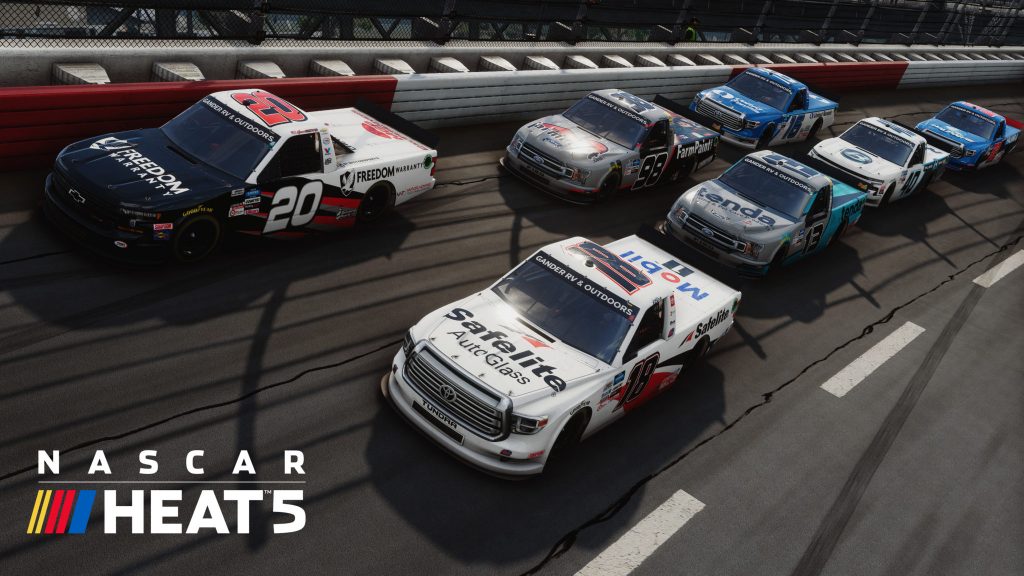 NASCAR Truck Series
| | |
| --- | --- |
| Spencer Boyd | Freedom Warranty Throwback |
| Spencer Boyd | Richmar Florist |
| Christian Eckes | Safelight Throwback |
| Grant Enfinger | Farmpaint |
| Stewart Friesen | Halmar/Racing to Beat Hunger |
| Todd Gilliland | Crosely |
| Raphael Lessard | Canac |
| Austin Wayne Self | Airbox |