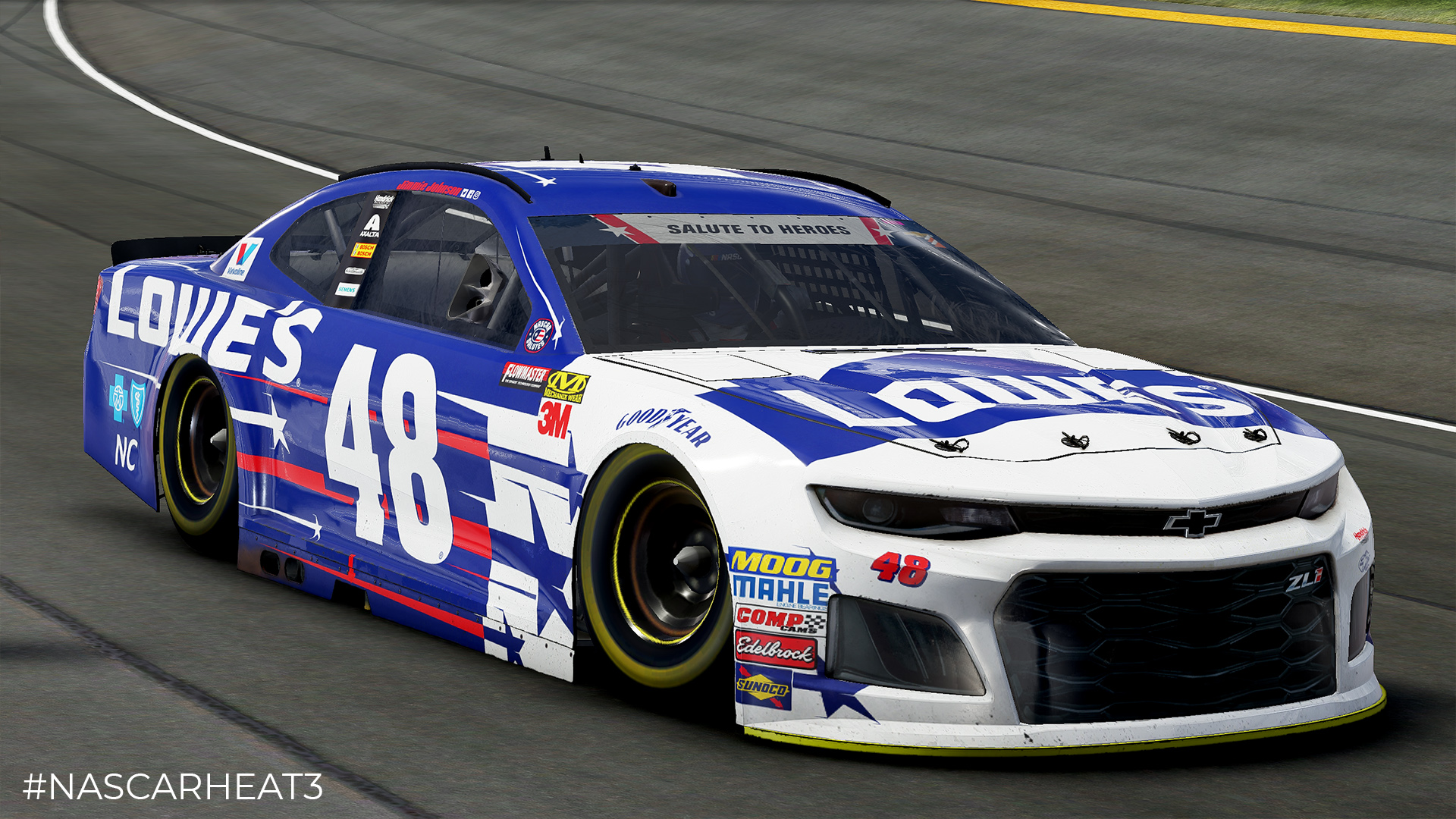 31 Aug

September DLC – NH3
September Pack ($12.99/Included with the 2018 Hot Pass)
NASCAR Heat 3's September DLC Pack includes 56 Paint Schemes and 3 Challenges!
NASCAR Heat Paint Schemes
The NASCAR Heat 3 September Pack includes 46 Monster Energy NASCAR Cup Series Paint Schemes and 10 NASCAR Xfinity Series Paint Schemes. Patriotic Paint Schemes take the centerstage in this pack. Most of the NASCAR Heat 3 September Pack Paint Schemes ran during the 2018 Coca-Cola 600 at Charlotte Motor Speedway in addition to other popular paint schemes like Ryan Blaney's 'PPG Paints' paint scheme from the Auto Club 400 at Auto Club Speedway.
Monster Energy NASCAR Cup Series
Jamie McMurray, Gearwrench (Dover)
Brad Keselowski, Miller Lite Patriotic (Charlotte 600)*
Brad Keselowski, Autotrader (AC / KF) (Atlanta)
Brad Keselowski, Discount Tire (Las Vegas)
Austin Dillon, American Ethanol (Charlotte 600)
Austin Dillon, Dow Veterans (Michigan)
Kevin Harvick, Busch Beer Flannel (Talladega)*
Kevin Harvick, Mobil 1 (AC / KF) (Richmond)
Chase Elliott, Kelley Blue Book (Bristol)
Chase Elliott, Mountain Dew Little Caesars (Michigan)
Aric Almirola, Smithfield (Charlotte 600)
Denny Hamlin, FedEx Freight (Phoenix)
Ryan Blaney, PPG Paints (Auto Club)
Ryan Blaney, Pennzoil Menards (Las Vegas)
Ty Dillon, Geico Military (Charlotte 600)
Clint Bowyer, IT Savvy (Richmond)
Ricky Stenhouse, Jr., Fastenal Patriotic (Charlotte)
Ricky Stenhouse, Jr., Little Hugs Fruit Barrels (Pocono)
Kyle Busch, M&M's (Charlotte)
Kyle Busch, Skittles (Bristol)
Kyle Busch, Skittles RWB (Chicagoland)
Daniel Suarez, Arris Ruckus (Auto Club)
Erik Jones, Cicle K Black (Charlotte 600)
Erik Jones, Cicle K White (Martinsville)
Paul Menard, Menards Quaker State (Richmond)
Joey Logano, Autotrader (Bristol)
Gray Gaulding, BK Racing (Charlotte 600)
William Byron, Hertz (All Star)
Ryan Newman, Liberty National (Charlotte)
Ryan Newman, Grainger (Phoenix)
Chris Buescher, Cottonelle (Charlotte)
Chris Buescher, Bush's Beans (Martinsville)
David Ragan, 1000bulbs.com (Auto Club)
Kurt Busch, Haas Automation Alpha (Charlotte 600)
Kurt Busch, Monster Energy Alpha (All Star)
Kyle Larson, DC Solar (Charlotte 600)
Kyle Larson, Clover / First Data (Atlanta)
Kyle Larson, DC Solar (Auto Club)
Bubba Wallace, Kroger (Charlotte 600)
Bubba Wallace, Cosmopolitan (Las Vegas)
Bubba Wallace, Eckrich (Dover)
Corey LaJoie, My Freedom Smokes (Charlotte 600)
Martin Truex, Jr., Bass Pro Shops (Charlotte 600)
Martin Truex, Jr., Auto Owners Insurance (Bristol)
Kasey Kahne, ProCore Inverse (Daytona)
Kasey Kahne, Dumont Jets (All Star)
*Must be age 21 or older to use this scheme.
NASCAR Xfinity Series
Garrett Smithley, FAME (Texas)
Cole Custer, Code 3 Associates (Michigan)
Elliott Sadler, Armour (Bristol)
Matt Tifft, KCMG (Talladega)
Justin Allgaier, Rinnai (Atlanta)
Tyler Reddick, Armour (Talladega)
Brandon Jones, Toyota Service Centers (Texas)
Austin Cindric, Richmond / Menards (Dover)
Joey Gase, Pro Master (Kentucky)
John Hunter Nemechek, Chevrolet Accessories (Pocono)
Challenges
The September DLC Pack also includes 3 new Challenges, 2 for the Monster Energy NASCAR Cup Series and 1 for the NASCAR Camping World Truck Series.
Free NASCAR Heat Paint Schemes & Challenges 
Through our partnership with Hendrick Motorsports, fans will receive free Hendrick Motorsports Paint Schemes each month as well as a new Challenge. In September, there will be 4 free Paint Schemes along and 1 Challenge for the Xtreme Dirt Tour.
Paint Schemes
Chase Elliott, NAPA Auto Parts (Charlotte 600)
William Byron, Liberty University (Charlotte 600)
Jimmie Johnson, Lowe's (Charlotte 600)
Alex Bowman, Nationwide (Charlotte 600)