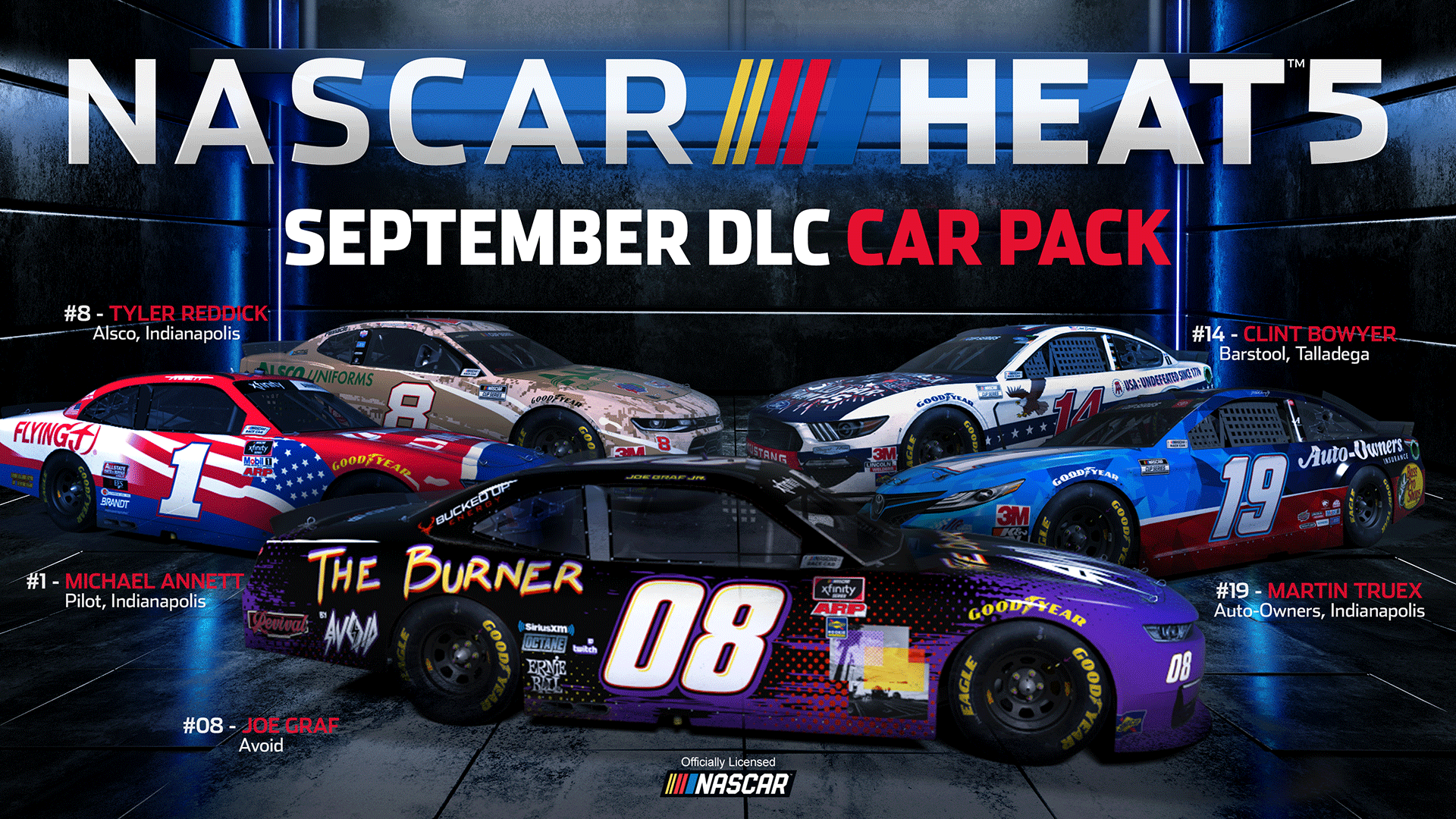 24 Sep

September DLC of Patriotic Schemes is here for NASCAR Heat 5

Available now on Xbox, PS4, And Steam

We're back again with another batch of schemes and this time it's bursting with patriotic paint jobs!

This time around we've got 39 schemes for Cup Series and a full dozen Xfinity Series schemes (the most in a single DLC). This includes patriotic schemes for Kyle Busch, Clint Bowyer, Martin Truex Jr., Austin Dillon, and more!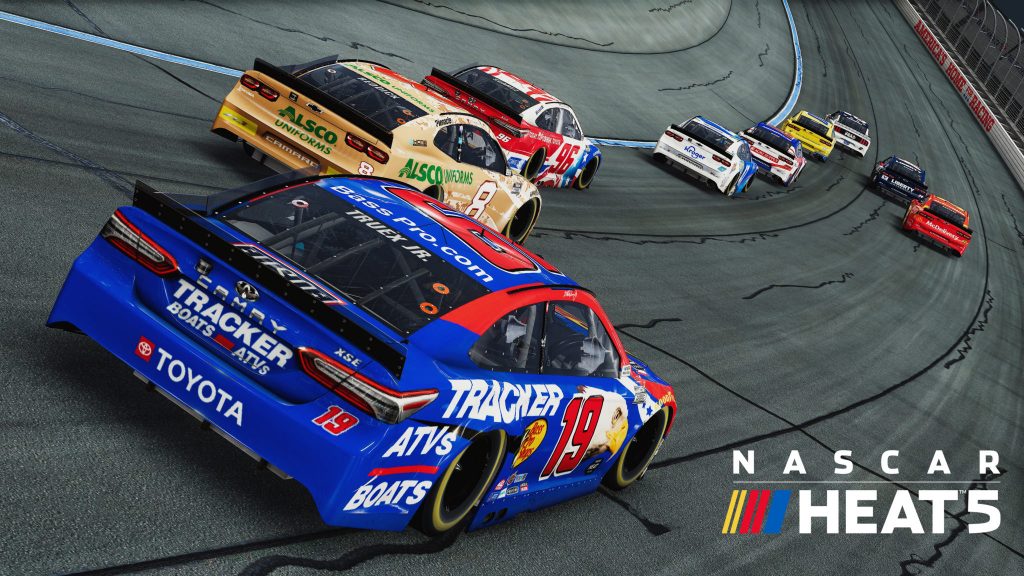 As per usual, we've also got three new Challenges, and this month you can expect to see Martin Truex Jr., Clint Bowyer, and Jeff Gordon! This comes hot off the heels of our latest patch, which you can read about on our social media pages.
Just like with the first two DLC, this September DLC will be available for free to owners of NASCAR Heat 5 Gold Edition or those who purchased the NASCAR Heat 5 Season Pass separately. Additionally this DLC can be purchased as standalone content for $12.99 USD.
Here is the full list of schemes coming in the NASCAR Heat 5 September DLC:
Cup Series:
| | |
| --- | --- |
| Aric Almirola | Smithfield Vote for Bacon |
| Ryan Blaney | Body Armour |
| Ryan Blaney | Menards/Richmond |
| Ryan Blaney | Dex Imaging |
| Alex Bowman | Noco Salutes |
| Clint Bowyer | Barstool Sports Patriotic |
| Chris Buescher | Sunny D Patriotic |
| Chris Buescher | RPP |
| Kyle Busch | Pedigree |
| Kyle Busch | Skittles |
| Kyle Busch | Skittles Patriotic |
| William Byron | Liberty Patriotic |
| Cole Custer | Haas/Jacob Companies |
| Matt DiBenedetto | Red Cap |
| Austin Dillon | Dow Patriotic |
| Chase Elliott | Moutain Dew Team Rubicon |
| Chase Elliott | Mountain Dew |
| Joey Gase | CLT Carolina Cooker |
| Denny Hamlin | FedEx Support Small |
| Quin Houff | Mane n Tail Patriotic |
| Quin Houff | Good Greek |
| Erik Jones | Resers |
| Erik Jones | Toyota |
| Matt Kenseth | McDonalds |
| Brad Keselowski | Miller Lite Kid Friendly |
| Brad Keselowski | Auto Trader |
| Brad Keselowski | Wurth |
| Joey Logano | AAA Insurance |
| Michael McDowell | Carparts Patriotic |
| John Hunter Nemecheck | Death Wish Coffee |
| Ryan Newman | Oscar Meyer Patriotic |
| Ryan Newman | Wyndham Rewards |
| Ryan Preece | Scott Patriotic |
| Tyler Reddick | Alsco Military |
| Ricky Stenhouse Jr. | Kroger Patriotic |
| Daniel Suarez | Today, Tomorrow, Toyota Flag |
| Martin Truex Jr. | Auto Owners Patriotic |
| Martin Truex Jr. | Bass Pro Shop Patriotic |
| Bubba Wallace | Cash App |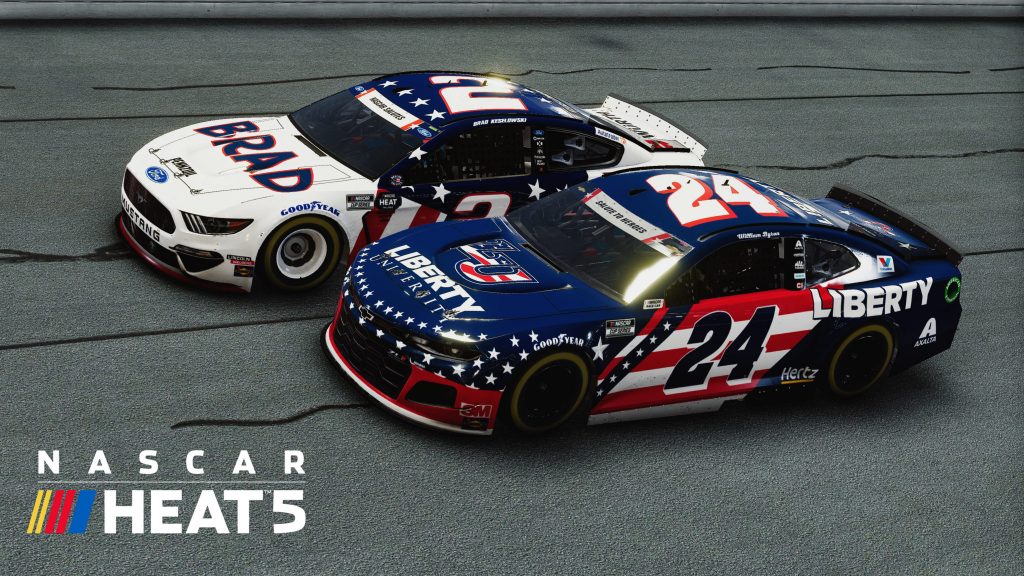 Xfinity Series:
| | |
| --- | --- |
| Michael Annett | Pilot Patriotic |
| Ross Chastain | Indy Patriotic |
| Joe Graf Jr. | Avoid |
| Joe Graf Jr. | Bucked Up Energy Patriotic |
| Noah Gragson | Axalta/Echo Park |
| Alex Labbe | Prolon |
| Colby Howard | Sany |
| Jeffery Earnhardt | Flexfit |
| Jesse Little | Skuttle Tight |
| Ryan Sieg | CMR Patriotic |
| Josh Williams | Musselman |
| Josh Williams | Alloy Patriotic |