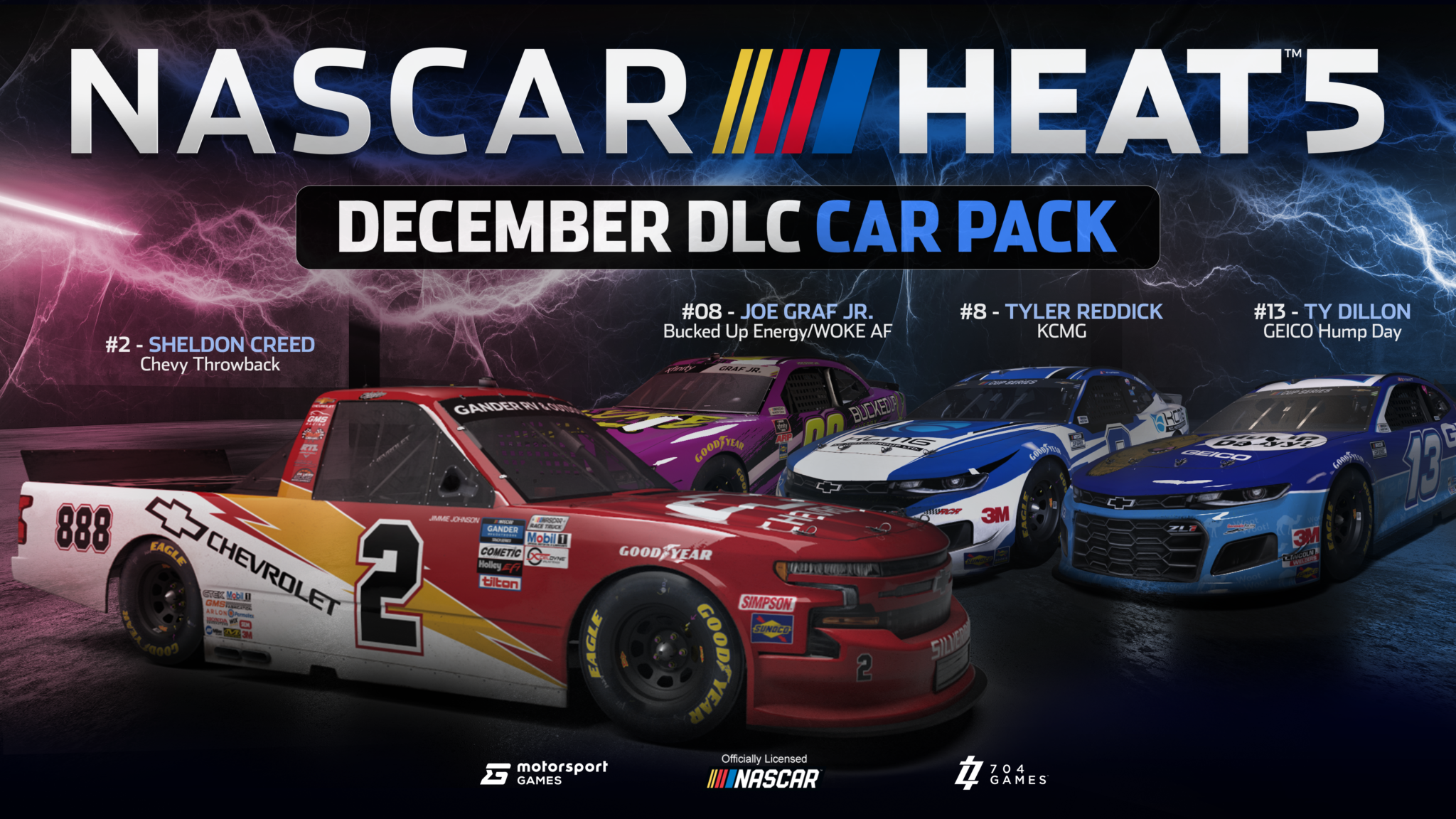 17 Dec

The December DLC is Now Available!

Available now on Xbox, PS4, And Steam

The nights are getting longer, and so is your list of schemes to choose from in NASCAR Heat 5 if you pick up the brand new December Pack! The latest collection of 2020 NASCAR schemes features 33 fresh paint jobs from across Cup, Xfinity, and Truck series.

On the Cup side you can expect schemes from Denny Hamlin, Kyle Busch, Matt Kenseth, Bubba Wallace, Tyler Reddick, and more! And for Xfinity and Trucks you can expect to see even more names but here's a few highlights: Busch (yep, again), Burton, Briscoe, Creed, Smith, and, in both series, Austin Hill!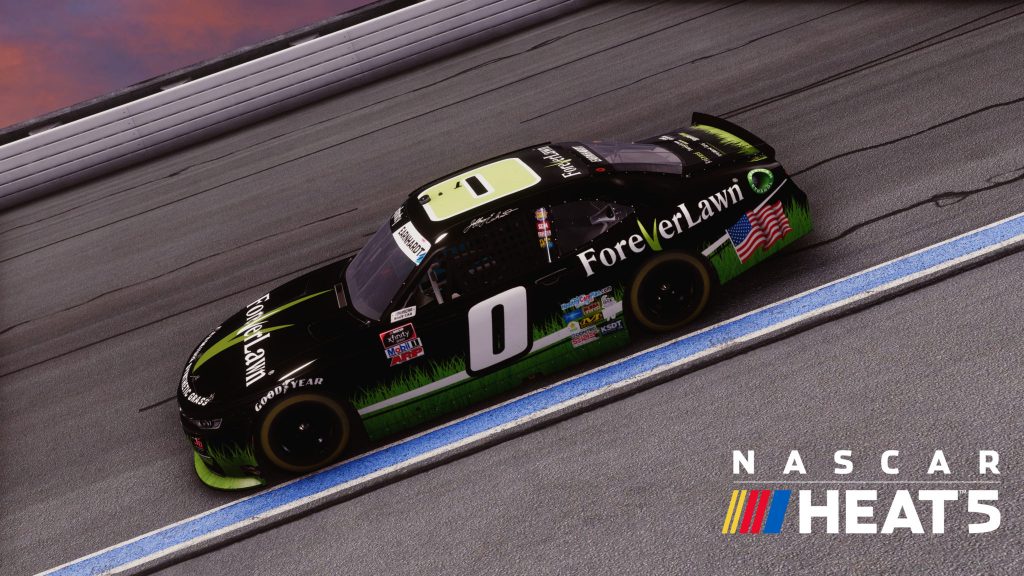 This final DLC of 2020 is available now and is $9.99 USD on all platforms and, similar to the Playoff Pack, is not part of the Season Pass or Gold Edition content.
Here is the full list of schemes:
NASCAR Cup Series Schemes:
Kyle Busch – Skittles Dips
Ty Dillon – GEICO Hump Day
Ty Dillon – GEICO Throwback
Ty Dillon – GEICO Military (Black)
Ty Dillon – GEICOWeen
Denny Hamlin – FedEx Phoenix
Matt Kenseth – Clover
Michael McDowell – Carparts.com Martinsville
Tyler Reddick – KCMG
Tyler Reddick – Realtree
Bubba Wallace – Columbia PFG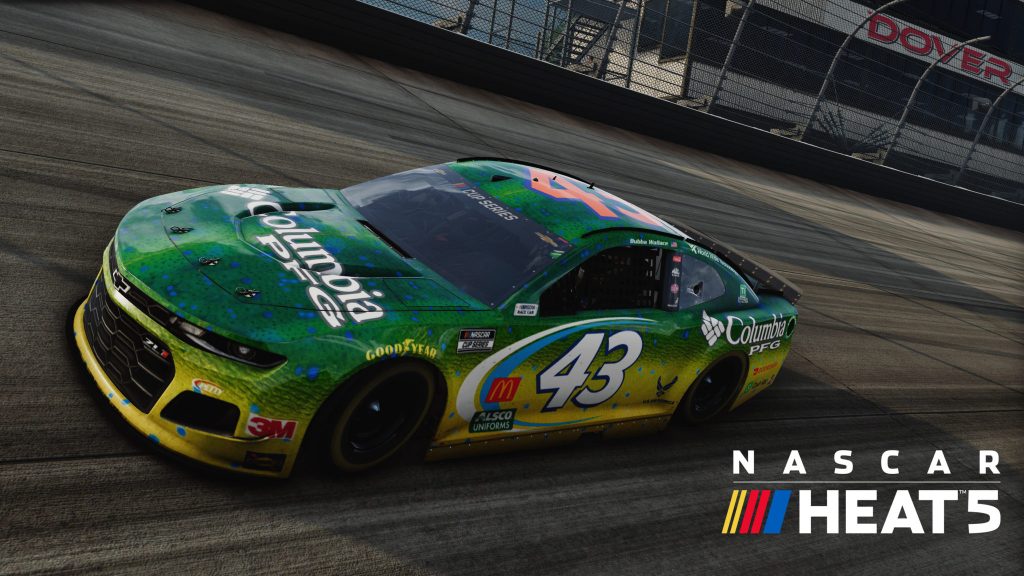 NASCAR Xfinity Series Schemes:
Caesar Bacarella – Olympia Fitness
Chase Briscoe – Highpoint Throwback
Harrison Burton – Dex Imaging/Hunt Brothers Pizza
Jeremy Clements – 1 Stop Halloween
Jeffrey Earnhardt – Drydene
Jeffrey Earnhardt – Forever Lawn
Joe Graf Jr. – Bucked Up/Woke AF
Justin Haley – Leaf Filter/Veteran Awareness
Austin Hill – Weins Canada
Brandon Jones – Menards/Swiffer
Alex Labbe – Prolon Controls Halloween
Josh Williams – Sleep Well Halloween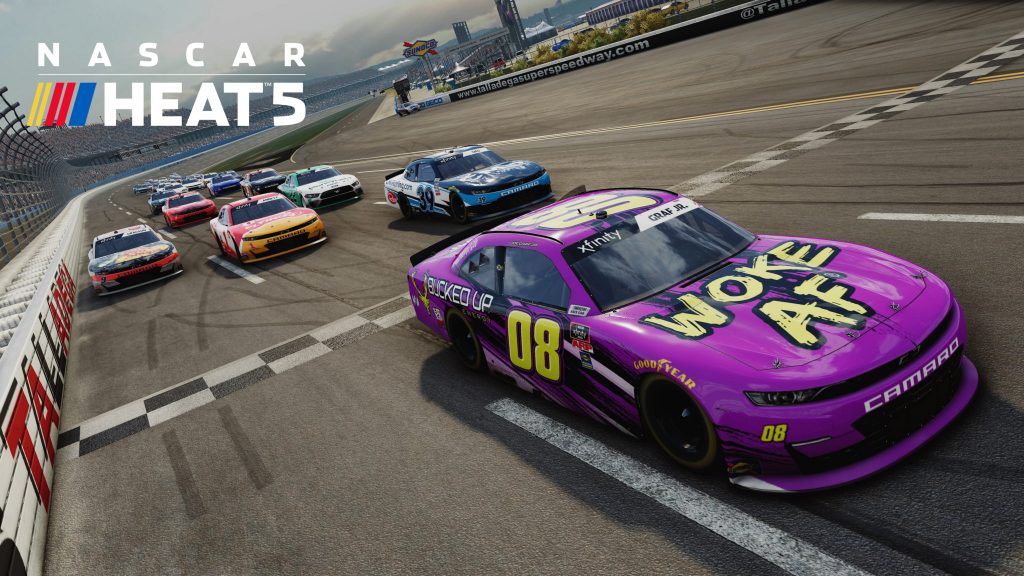 NASCAR Gander RV & Outdoors Truck Series Schemes:
Tyler Ankrum – Liuna Throwback
Kyle Busch – Cessna/Big Machine Hand Sanitizer
Sheldon Creed – Chevy Throwback
Todd Gilliland – Frontline
Austin Hill – Gunma Toyopet
Austin Hill – Weins Canada
Raphael Lessard – Mobil 1
Brett Moffit – GMS Fabrication Throwback
Brett Moffit – Allegiant
Zane Smith – MRC Throwback