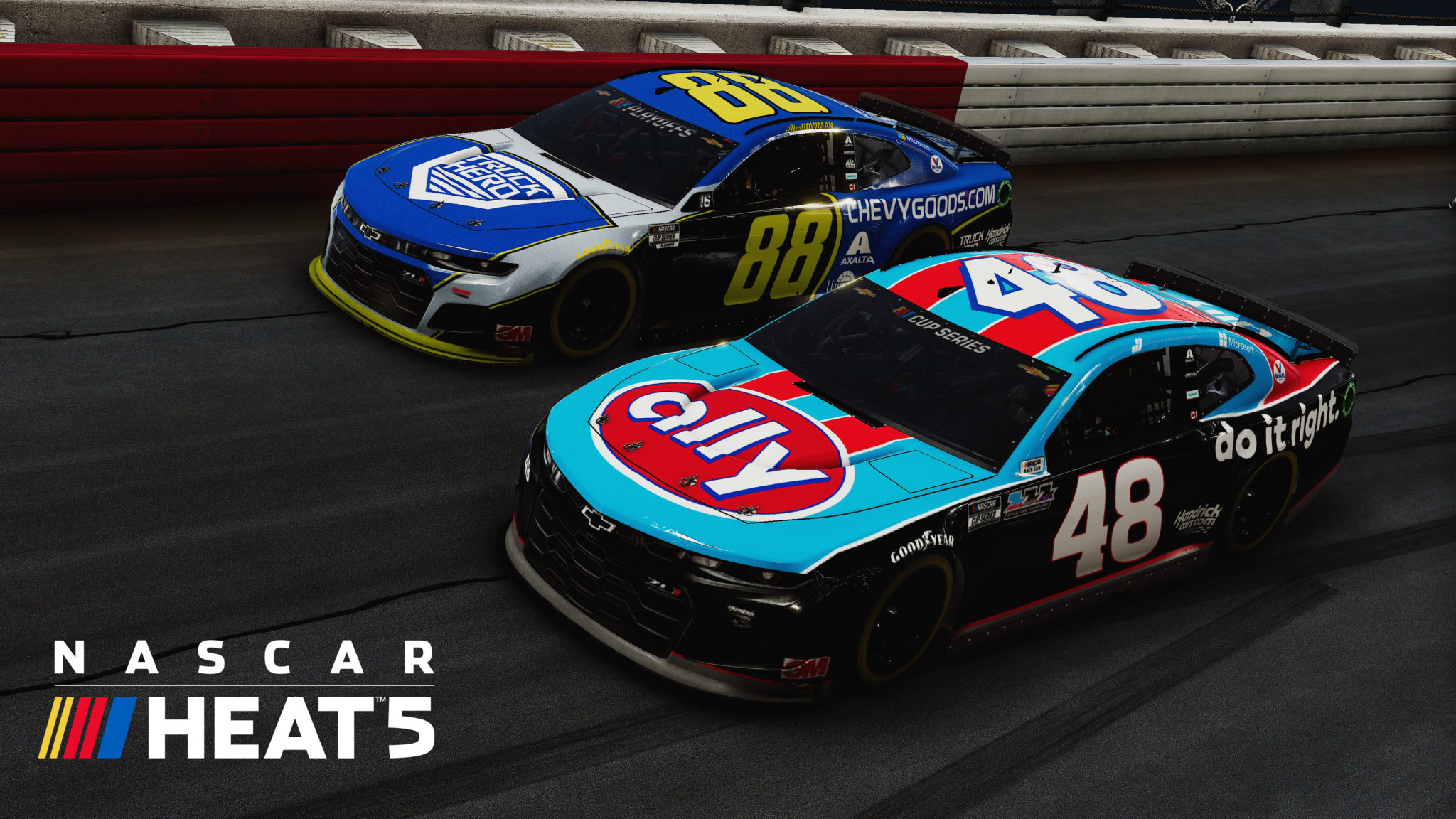 19 Nov

Two New DLC for NASCAR Heat 5!

Available now on Xbox, PS4, And Steam

We're so happy to reveal that we've got not one but TWO additional DLC packs for #NASCARHeat5! That's right! Just when you thought you were out, we pull you back in.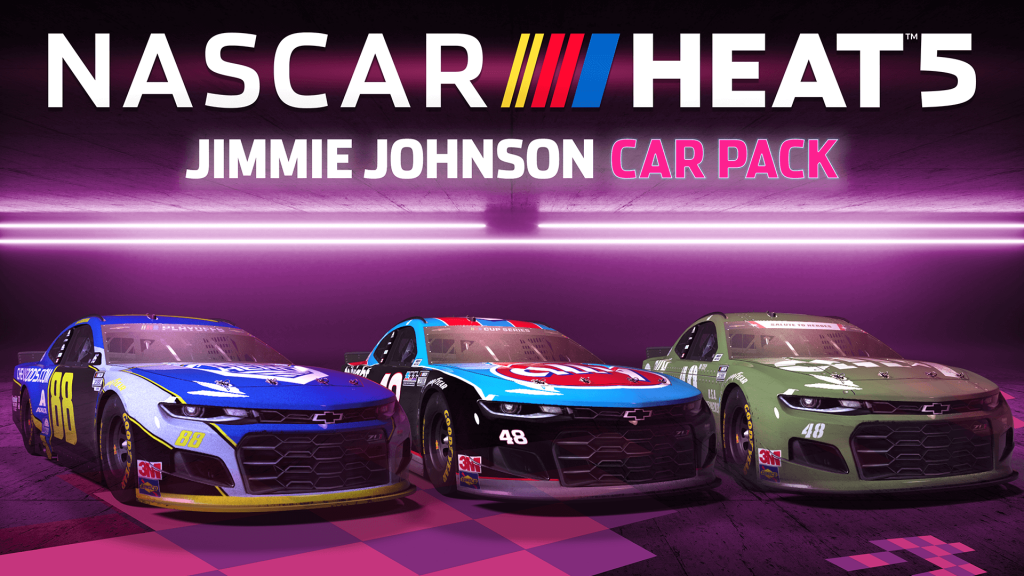 The first of these new packs is one that a few people in the community have already predicted… Some of you have noticed a distinct lack of Jimmie Johnson schemes and put two and two together, and this time it makes seven! Seven-time NASCAR Champion Jimmie Johnson is getting his very own DLC for NASCAR Heat 5, and it's completely free to anyone who owns the Gold Edition OR Season Pass! When we announced the season pass earlier this year we said it would include the July, August, September, and October DLCs, but we're including the Jimmie DLC in that as well now. This DLC can also be purchased as standalone content for $6.99 USD if you don't own the Gold Edition or Season Pass. This pack features EIGHT schemes from Jimmie's 2020 season, two for Alex Bowman, two for Chase Elliott, and one a piece for William Byron and Brett Moffitt.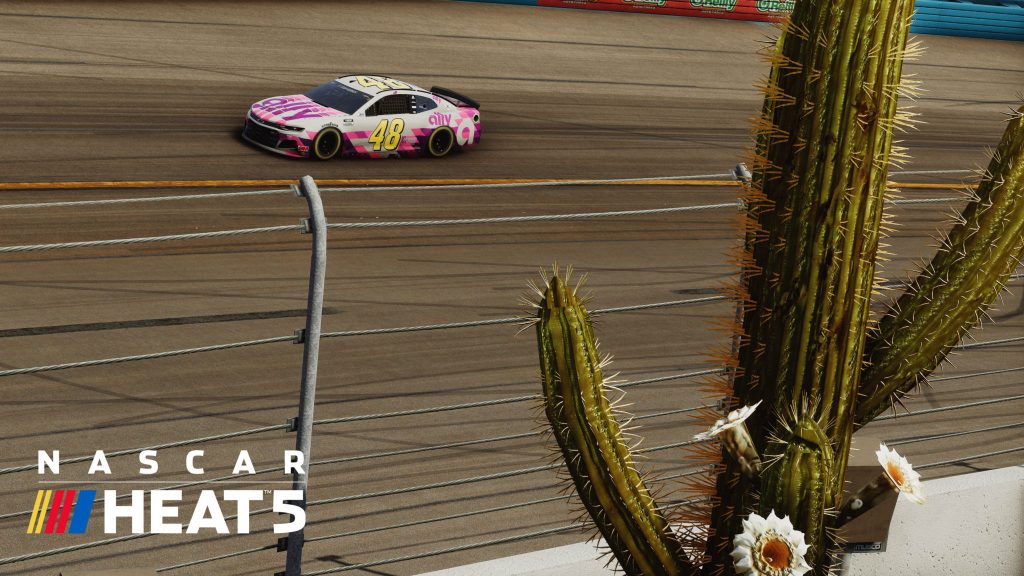 Here is the full list of schemes included in this pack:
NASCAR Cup Series Schemes:
Alex Bowman – Chevy Goods Throwback
Alex Bowman – JJ Phoenix Tribute
William Byron – Liberty University Throwback
Chase Elliott – JJ Phoenix Tribute
Chase Elliott – Napa Throwback
Jimmie Johnson – Ally Throwback
Jimmie Johnson – Ally Fueling Futures
Jimmie Johnson – Ally Patriotic
Jimmie Johnson – Ally All-Star
Jimmie Johnson – Ally Black- Las Vegas
Jimmie Johnson – Texas-Noah Sweet Scheme
Jimmie Johnson – Ally-Sign for Jimmie
Jimmie Johnson – FINAL PAINT SCHEME

NASCAR Gander RV & Outdoors Truck Series Scheme:
Brett Moffitt – Plan B Sales JJ Tribute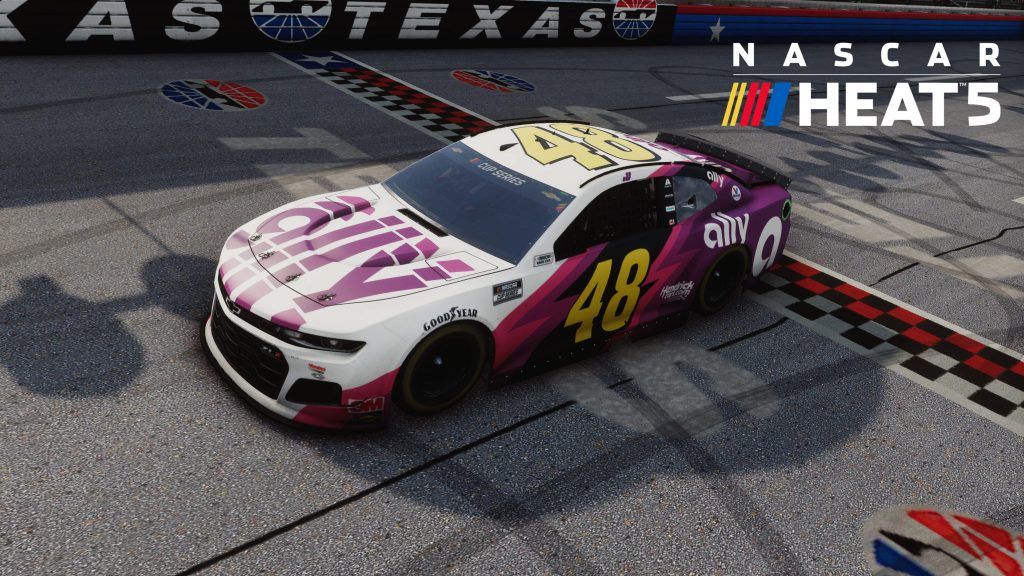 Our second DLC of the month is the Playoff DLC! This pack features a whopping 37 Cup Series schemes. That includes numerous Playoff schemes and some additional schemes that didn't make the cut into other DLC packs. This DLC is not part of the Season Pass, and will need to be purchased separately for $9.99 USD to unlock these exclusive schemes ($3 less than the previous monthly DLCs).
Here is the full list of schemes included in the Playoff pack: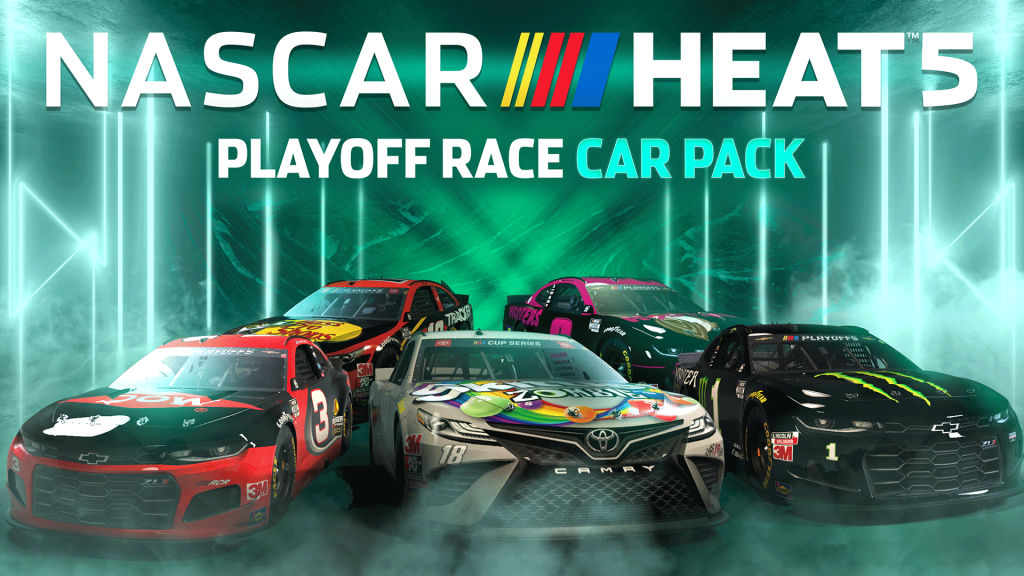 Aric Almirola – Smithfield Playoff
Aric Almirola – Power Bites Playoff
Ryan Blaney – Advance Auto Playoff
Alex Bowman – Valvoline Playoff
Alex Bowman – Plantars Playoff
Clint Bowyer – One Cure Playoff
Clint Bowyer – Ford Performance Racing Playoff
Kurt Busch – Monster Energy Playoff
Kyle Busch – M&M Halloween Treat Town
Kyle Busch – Skittles Zombie
Kyle Busch – M&M Playoff
William Byron – Liberty University Playoff
William Byron – Hendrickcars.com
Cole Custer – Haas Playoff
Cole Custer – Haas Fusion 360 Playoff
Matt DiBenedetto – Quick Lane Playoff
Austin Dillon – DOW Playoff
Austin Dillon – DOW Frost Playoff
Chase Elliott – Hooters Pink Playoff
Chase Elliott – NAPA Playoff
Denny Hamlin – FedEx Express Playoff
Kevin Harvick – Hunt Brothers Pizza/Fields Playoff KF
Kevin Harvick – Mobil 1 Playoff
Quin Houff – Boss Hoss Cylces
Matt Kenseth – Ronald McDonald House
Brad Keselowski – Alliance Parts/Western Star Playoff
Corey LaJoie – Haloween Keen Parts
Corey LaJoie – OneNation Coffee
Joey Logano – Pennzoil Playoff
John Hunter Nemechek – Speedy Cash
Ryan Preece – Maxwell/Houses for Heroes
Ricky Stenhouse Jr. – Pink Kroger
Ricky Stenhouse Jr. – Hungry Jack
Martin Truex Jr. – Bass Pro Shop All Star
Martin Truex Jr. – Bass Pro Shop Playoff
Bubba Wallace – Columbia
Bubba Wallace – Door Dash