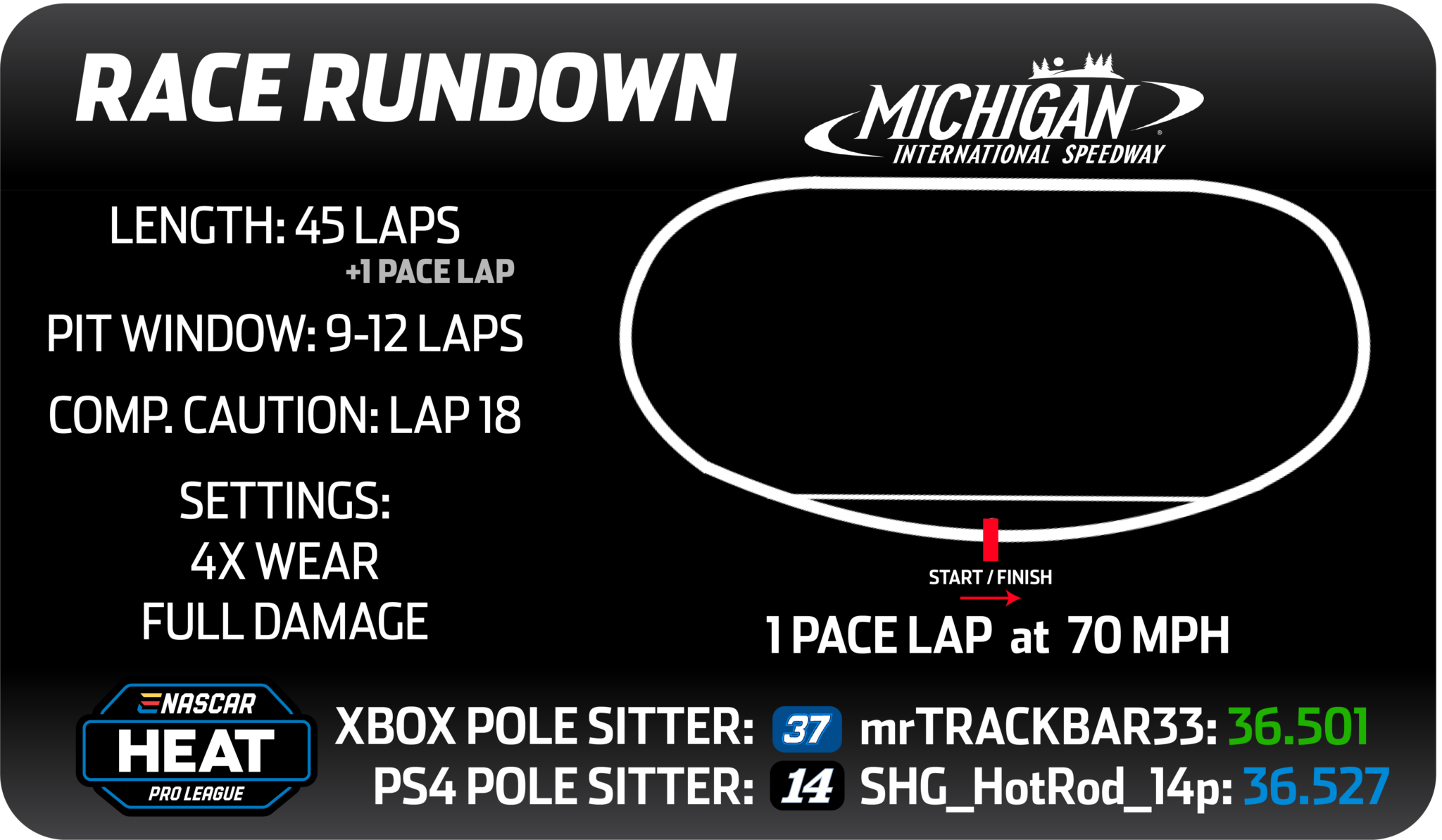 06 Aug

Crunch time for several teams at Michigan this week

There is a lot on the line in this week's race at Michigan for the eNASCAR Heat Pro League drivers. Viewers watching the race event will have a chance to win a ticket to the NASCAR Driving Experience ($600 value).

In addition to the NASCAR Driving Experience prize, a copy of NASCAR Heat 4 will also be given away during the live stream.


Although Roush Fenway Racing has already clinched a playoff berth, several teams still need a win this week at Michigan International Speedway to punch their ticket for the eNASCAR Heat Pro League playoffs.


Nick Walker (wowTHATSgarbage) has already picked up a pair of race wins this season in the Xbox division and expects an action-packed race on the 2-mile track.


"The practices we have ran have been fun," said Walker. "I expect a lot of two and three-wide racing on the Michigan track. It should produce a lot of bumping and racing for positions."


In addition to the bumping, Walker predicts you might see some drivers take some chances. They will take chances because a potential playoff berth is up for grabs but also a new incentive for the drivers.


"Now that we have an opportunity to win a NASCAR Driving Experience for winning the race I think you will see a lot of guys racing hard and more contact than usual," said Walker.


His teammate in the PlayStation 4 division Cody Giles (xX_Fluffy_Xx2) might not have a win yet, but the driver has proven to be the most consistent one in the division standing alone as the only gamer to finish in the top 10 in all previous six races.

The Smyrna, Tenn., driver echoes Walker's thoughts on what type of race to expect.

"I expect a wild race too," Giles added. "Fans will see a lot of three-wide racing on a fast track and drivers will probably make some wild moves to get to the front.

"Staying in the draft is going to be important and then it should get crazy late in the race going for the win."

Michigan is the penultimate race in the inaugural season of the eNASCAR Heat Pro League and teams will want to lock up a playoff berth before competing at Daytona International Speedway in the regular season finale in two weeks.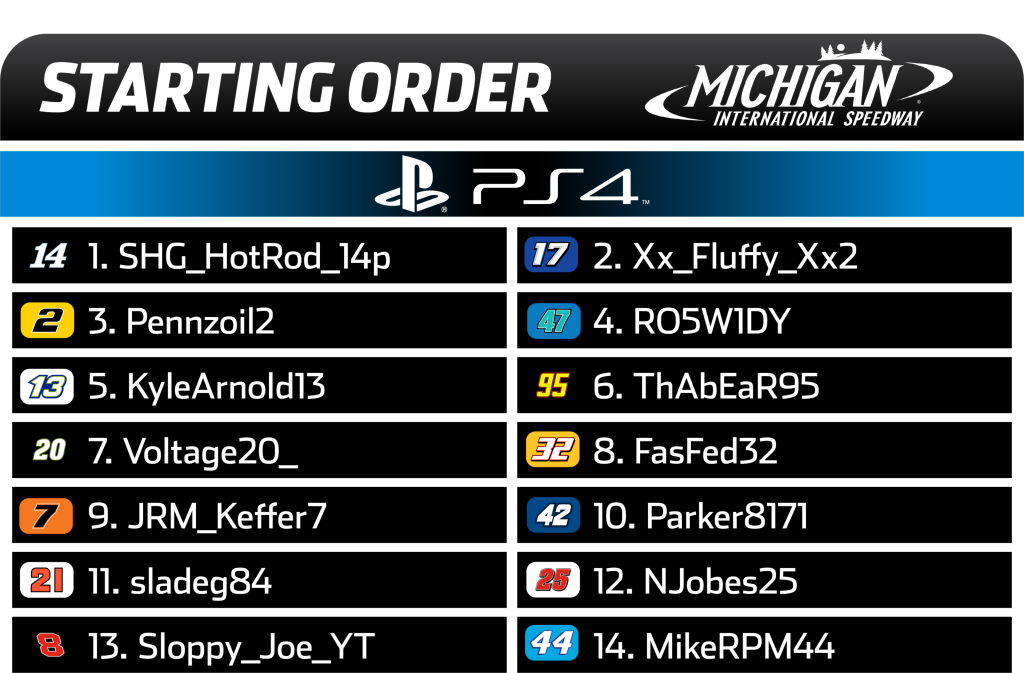 Roush Fenway Gaming moved into the lead in the team standings after the last race and lead Team Penske Esports by two points (422-420) with Leavine Family Gaming third just nine points out of the lead with 413. JTG Daugherty Throttlers and JR Motorsports tied with 410 points each to complete the top five.

The pre-race show for Michigan International Speedway will start on Wednesday at 7:30 p.m. ET with racing slated to begin at 8 p.m. Fans can watch the races on the following social media platforms:

Facebook: https://www.facebook.com/nascarheat/
Twitch: www.twitch.tv/704nascarheat
Motorsport.tv: www.motorsport.tv

For more information about the eNASCAR Heat Pro League, please visit www.enascarheat.com and you can follow the eNASCAR Heat Pro League on the following social media platforms: