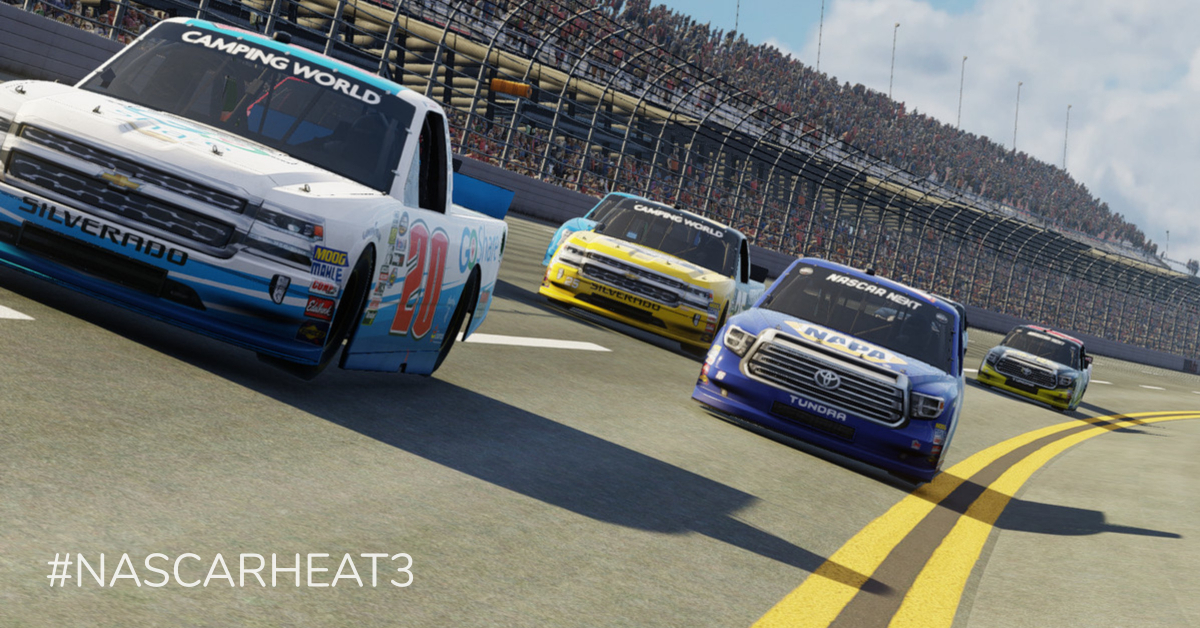 06 Aug

NASCAR Heat 3 Camping World Truck Series Roster

For nearly 25 years, some of the best drivers in NASCAR started their racing careers in the NASCAR Camping World Truck Series (NCWTS). As the only NASCAR National Series to race modified trucks, the NCWTS requires a level of skill and racing versatility that only the best drivers possess. Also, included within the NCWTS roster is the 2018 NASCAR Next class.

Do you think you have what it takes to join their ranks?
NASCAR Heat 3 Camping World Truck Series Roster:
#02 Austin Hill – Young's Motorsports
#1 Jamie Mosley – TJL Motorsports
#2 Ryan Vargas – NASCAR Next
#2 Cody Coughlin – GMS Racing
#3 Jordan Anderson –  Jordan Anderson Racing
#4 Todd Gilliland – Kyle Busch Motorsports
#7 Korbin Forrister – All Out Motorsports
#8 Chase Purdy – NASCAR Next
#8 John Hunter Nemechek – NEMCO Motorsports
#10 Jennifer Jo Cobb – Jennifer Jo Cobb Racing
#13 Myatt Snider – ThorSport Racing
#15 Robby Lyons – Premium Motorsports
#16 Derek Kraus – NASCAR Next
#16 Brett Moffitt – Hattori Racing Enterprises
#18 Riley Herbst – NASCAR Next
#18 Noah Gragson – Kyle Busch Motorsports
#19 Hailie Deegan – NASCAR Next
#20 Tanner Thorson – Young's Motorsports
#21 Johnny Sauter – GMS Racing
#22 Austin Wayne Self – AM Racing
#24 Justin Haley – GMS Racing
#25 Dalton Sargeant – GMS Racing
#33 Josh Reaume – Reaume Bros Racing
#38 Max McLaughlin – Niece Motorsports
#40 Anthony Alfredo – NASCAR Next
#41 Zane Smith – NASCAR Next
#41 Ben Rhodes – ThorSport Racing
#45 Justin Fontaine – Niece Motorsports
#47 Chris Fontaine – Chris Fontaine Inc.
#49 Wendell Chavous – Premium Motorsports
#50 Travis Kvapil – Beaver Motorsports
#51 Harrison Burton – Kyle Busch Motorsports
#52 Will Rodgers – NASCAR Next
#52 Stewart Friesen – Halmar Frisen Racing
#54 Bo LeMastus – DGR-Crosley
#68 Clay Greenfield – Clay Greenfield Motorsports
#74 Mike Harmon – Mike Harmon Racing
#75 Parker Kligerman – Henderson Motorsports
#83 Bayley Currey – Copp Motorsports
#87 Joe Nemechek – NEMCO Motorsports
#88 Matt Crafton – ThorSport Racing
#92 Timothy Peters – Ricky Benton Racing
#98 Grant Enfinger – ThorSport Racing