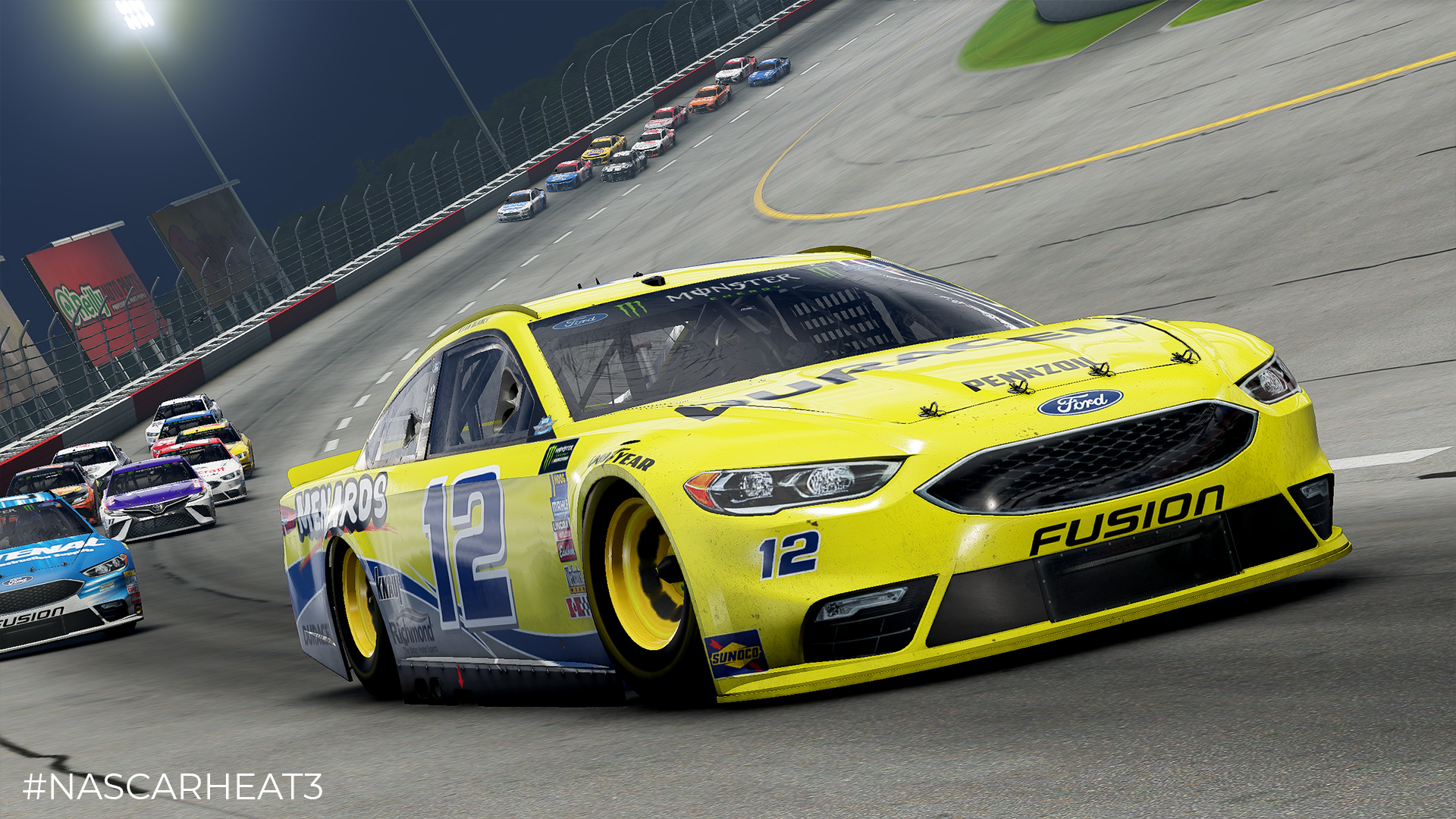 11 Oct

NASCAR Heat 3 October DLC

We are excited to announce the release of the October Pack, one of the most highly anticipated DLC packs of the year! The NASCAR Heat 3 October DLC pack will include over 60 paint schemes, 3 new Challenges, and new Spotter Audio for fans to expand their NASCAR Heat experience. The NASCAR Heat October DLC will be available on Xbox One, PlayStation 4, and Steam on October 19. Learn more about what's included below!

October Pack ($12.99/Included with the 2018 Hot Pass)

NASCAR Heat 3's October Pack includes 43 Monster Energy NASCAR Cup Series paint schemes, 10 NASCAR Xfinity Series paint schemes, and 9 NASCAR Camping World Truck Series paint schemes. Also included are 3 new Challenges and new Spotter Audio making this DLC a great value!
NASCAR Heat 3 Paint Schemes
Monster Energy NASCAR Cup Series
Jamie McMurray, McDonald's 50th Anniversary Throwback
Brad Keselowski, Alliance Truck Parts (Kid Friendly)
Austin Dillon, American Ethanol Throwback
Austin Dillon, Realtree
Aric Almirola, Smithfield Throwback
Denny Hamlin, FedEx Throwback
Denny Hamlin, FedEx Office
Ryan Blaney, Menards Throwback
Ryan Blaney, DeVilbiss / Carlisle
Ty Dillon, Geico Throwback (Kid Friendly)
Clint Bowyer, Carolina Ford Dealers Throwback
Clint Bowyer, One Cure
Ricky Stenhouse Jr, Fastenal Stars Chicagoland
Ricky Stenhouse Jr, Ford EcoBoost (Black)
Kyle Busch, Skittles Throwback
Kyle Busch, M&M'S Flavor Vote
Kyle Busch, M&M'S Flavor Vote Winner
Daniel Suarez, Peak Antifreeze
Erik Jones, Sport Clips Throwback
Erik Jones, Buyatoyota.com
Paul Menard, Motorcraft Throwback
Paul Menard, Richmond / Menards (Red Number)
Joey Logano, Pennzoil Throwback
Ryan Newman, Caterpillar Throwback
Matt DiBenedetto, Keen Parts Throwback
Matt DiBenedetto, Plan B Sales
Matt DiBenedetto, Anest Iwata
Michael McDowell, Love's Travel Stops Throwback
Chris Buescher, Bush's Best Throwback
David Ragan, Cit Gard Throwback
David Ragan, Performance Plus
Kurt Busch, Haas Automation Throwback
Kurt Busch, State Water Heaters
Kyle Larson, DC Solar Throwback
Kyle Larson, Credit One Stripes
Kyle Larson, Credit One Stars
Bubba Wallace, STP Throwback
Bubba Wallace, STP
Bubba Wallace, Air Force
AJ Allmendinger, Kroger Click List Throwback
Corey LaJoie, BCT Throwback
Kasey Kahne, Dumont Jets Throwback
Kasey Kahne, ProCore Safety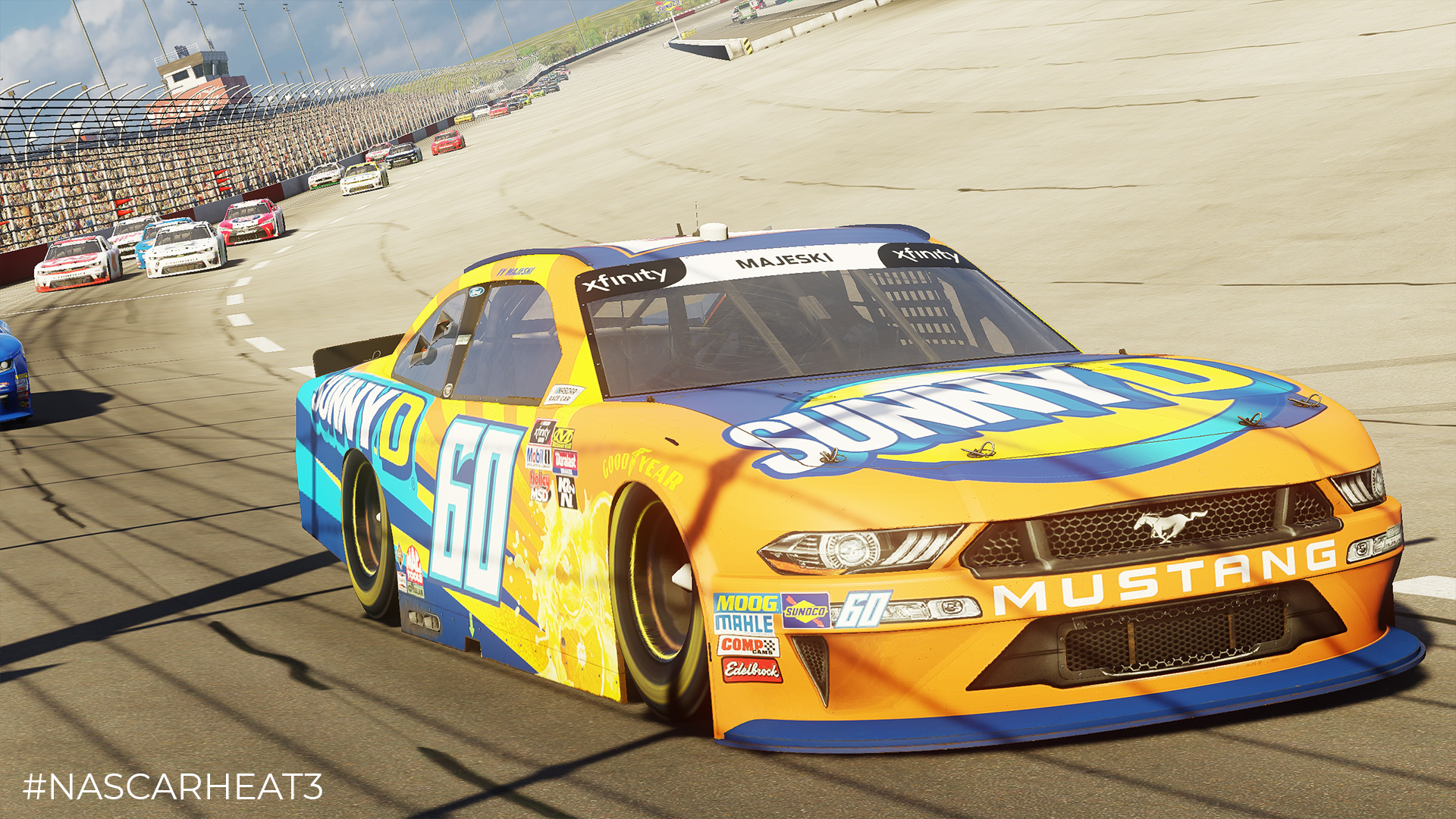 NASCAR Xfinity Series
Ty Dillon, Daniel Defense Throwback
Ross Chastain, Gerber
Christopher Bell, Rheem Throwback
Daniel Hemric, South Point Casino Throwback (Kid Friendly)
Spencer Gallagher, GMS Fabrication Throwback
Jeremy Clements, RepairableVehicles.com Throwback
Joey Gase, Darlington Throwback
Joey Gase, Sparks Energy Patriotic
Ty Majeski, SunnyD
Kevin Harvick, Hunt Brothers Pizza Throwback
NASCAR Camping World Truck Series
Jordan Anderson, Bomarrito / Lucas Oil – Yellow Number
Myatt Snider, Louisiana Hot Sauce
Brett Moffitt, Don Valley North
Johnny Sauter, ISM Connect (Patriotic)
Ben Rhodes, Carolina Nut Co
Joe Nemechek, Fleeting / DAB Constructors
Grant Enfinger , CURB Records
Matt Crafton, Rip It / Menards
Matt Crafton, Jack Links / Menards
Challenges & Spotter Audio
Also included within the October Pack are 3 new Challenges featuring Brad Keselowski, Justin Allgaier, and Johnny Sauter as well as new Spotter Audio from MRN announcer Alex Hayden!